Increasing the number of collaborations between developing nations should help to build their research bases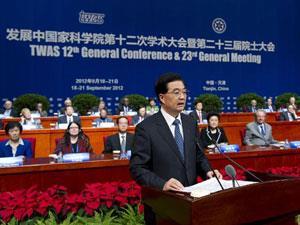 Science and technology ministers from a number of developing countries have called for improved multinational cooperation to develop their respective science bases at the recent annual meeting of The Academy of Sciences for the Developing World (TWAS). Working together on an equal footing technologically will mean that developing nations are able to help each other grow their research and ensure that they aren't treated as a junior partner by research teams in richer countries, with greater scientific resources.
'All countries have to collaborate to succeed. This includes also today's developing countries,' said Harald Fuchs, from the University of Münster, Germany. 'It is therefore very important to strengthen their technological potential quickly.' Fuchs was elected a member of TWAS last year and is also a member of the German Academy of Sciences.
'I would like to call for greater inter-connectivity among the STI (science, technology and innovation) landscapes of some nations from the developing world,' said Shri Vayalar Ravi, Indian minister for science and technology, earth sciences. 'I would like to call for greater efforts in promoting collaborative excellence in the science sector today.'
For different TWAS members, South–South and South–North scientific cooperation is quite different, despite the common emphasis on cross-boundary cooperation. Argentina is one of those seeking out greater international cooperation and has been strengthening its science and technology sector after the political crisis in 2001. 'The relationship is different,' explains Roberto Salvarezza, president of Argentina's main research funding body, CONICET. 'With a developing country we need to do complementary work [in fields where we have reached a similar level of knowledge]; with a developed country we try to cooperate in specific areas.'
Plenty of room at the bottom
This June, a new project between Argentina and the EU was started to raise the quality of nanotech products manufactured by smaller companies. Argentinian representatives said that they chose nanotech after careful consideration, because they want to improve in this area as fast as possible. 'We cooperate with many countries, they are very important to us,' Salvarezza said. 'With developing countries there is a more open dialogue, because we are similar and have similar problems. The cooperation with developed countries is a one-way road.'
Biomedical technology, information and communications technology and nanotechnology in particular are all being targeted by Argentina. Currently, many Argentinian colleges and institutes are carrying out nanotechnology research and producing nanotech materials. 'There are also many groups that research nanotechnology in Santa Fe and other places,' Salvarezza said. 'There is a lot of interest in the scientific community to move into the nano-world because it very attractive.'
Nanotech is also enjoying a lot of interest other developing countries. In Zimbabwe, a nanotech department was established under the science and technology ministry just two months ago. Heneri Dzinotyiweyi, the Zimbabwean minister of science and technology development, says that it's very exciting that developing countries are now paying much more interest to nanotechnology, biotechnology and other cutting edge disciplines. 'In the past many developing countries tended to be slow at this.'
However, Atta-ur Rahman from the International Center for Chemical and Biological Sciences of Pakistan says that developing nations aren't just chasing after these 'fashionable' technologies. He emphasises that a balance must be struck between newer fields and fundamental research.
According to Atta-ur Rahman, who has just finished writing a science roadmap for Pakistan, the two major problems with science development in developing countries is a lack of planning and too much conflict. 'The first thing that developing countries must do is to make a roadmap to chart where they want to go. Most of the developing countries don't have a clear roadmap. They must decide in 10–20 years what will be their strongest sector. Which area do they want to focus on? What should be their national priorities?' he said.