A device that automates sample preparation and detection for HIV can give a result within an hour
The diagnosis of HIV in developing countries could be quicker using a low cost device developed by US scientists.
Diagnosing HIV in its early stages is crucial to prevent the spread of the disease. Current point-of-care diagnostics work by detecting antibodies produced when the HIV virus is present. But, they can't detect HIV when infected individuals are most contagious because the antibodies are not produced at that time. Also, detection is slowed down by the time delay between sample collection and laboratory analysis.
Haim Bau at the University of Pennsylvania in Philadelphia and coworkers, have designed a device that uses nucleic acid testing to detect the virus before the antibodies make an appearance. The device integrates automation of all stages from sample preparation to detection.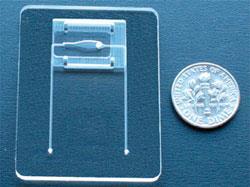 The device consists of a thin poly(methyl methacrylate) casing, smaller than a bank card, that contains inlet and outlet channels separated by a commercial solid state membrane. It is designed to capture nucleic acids on the membrane, which are then amplified by incubating with HIV-specific complementary nucleic acid sequences at around 60 degrees Celsius. The results can be detected by a portable reader after 30 to 60 minutes. In doing this, Bau avoids the expensive, complex and time-consuming process of using a conventional polymerase chain reaction process to amplify DNA concentrations to a measurable level, which requires precise temperature control and cycling.
'Traditional technology requires many operational steps in separate units or requires complex equipment,' says Xingyu Jiang, an expert in microfabrication and immunoassays at the National Centre for Nanoscience and Technology of China in Beijing. '[Bau's] device dramatically simplifies the operation and improves the detection efficiency,' he adds.
Bau demonstrated the device's efficacy using a saliva sample, which can be collected easily by unskilled individuals. It also reduces the risk of infection linked to collecting blood samples, although it is more challenging to amplify nucleic acids in saliva.
The device could be tailored to detect other diseases in body fluids, as well as food and water, by incubating with the appropriate complementary nucleic acid sequences. Bau is pursuing further work in this area as well as designing a quantitative device with real-time detection, which might include an interface with a mobile phone.
Erica Wise
Link to journal article
An isothermal amplification reactor with an integrated isolation membrane for point-of-care detection of infectious diseasesChangchun Liu, Eran Geva, Michael Mauk, Xianbo Qiu, William R. Abrams, Daniel Malamud, Kelly Curtis, S. Michele Owen and Haim H. Bau,?Analyst, 2011, 136, 2069DOI:10.1039/c1an00007a