European research needs to step up its game to remain competitive against the US and emerging nations, says the European Commission
European research needs a step-change in thinking to rival the United States and remain competitive with emerging economies such as China and India according to a report to the European Commission.
A panel of scientific experts from academia and industry, established to advise the European Commission (EC), have released their first annual report outlining how Europe can move towards a European Research Area (ERA) - a single market for research with pan-European cooperation. The report identifies a series of changes that are needed if excellent research is to thrive in Europe. The panel's six key recommendations include a call for greater mobility of ideas and people, research to be driven by societal challenges and a higher level of risk taking in research.
The concept of the ERA was relaunched in 2007 with the aim to allow free movement of knowledge, end duplication and increase quality of research in Europe. The European Research Area Board (ERAB), chaired by John Wood from Imperial College London, wants European countries to truly embrace 'open innovation' and believes that Europe needs a 'new Renaissance' in research.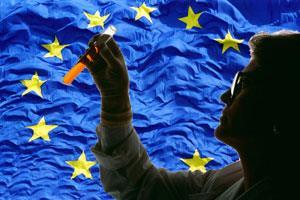 EC funding is notorious for being bureaucratic and complex but the reward is in the doors it opens to better research networks. ERAB want 50 per cent of EC research funding to go to high-risk research and development by 2030 and more effort to be given to enhance research networks, potentially making EC funding more worthwhile for applicants.
Wood believes that there is a need to raise the aspirations of many researchers and policy makers about what is real excellence to ensure Europe keeps pace with other areas of the world: 'We see other areas of the world like China and India coming up very fast,' he says. 'They can take actions very quickly compared with the member states of the union.'
Janez Potocnik, European Commissioner for Science and Research said: 'The report is a visionary strategy for the European Research Area. We have to change the way we do research and co-operate beyond borders. ERAB is putting the bar very high for European research and innovation policy.'
The report is ambitious but lacks in details, but the Commission say that it will be turning these recommendations into concrete proposals on specific issues. On recommendation by ERAB, the Commission has already announced it will appoint a chief scientific advisor who will have decision-making powers on big issues like climate change and fighting pandemics.
Leila Sattary
Interesting? Spread the word using the 'tools' menu on the left.