Nanoparticle light filter increases photosynthetic efficiency of algae by encouraging chlorophyll production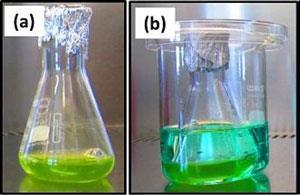 Scientists in Australia have developed
a nanoparticle light filter system that only lets through wavelengths favourable for microalgae growth
. The system could make producing algal biofuels more efficient.
Photosynthetic systems, particularly microalgae, are at the forefront of the search for new renewable fuels and feedstock chemicals. The speed and efficiency at which microalgae grow is currently limiting them from becoming a commercially viable product so optimising their production is obviously a priority.
Colin Raston from Flinders University and his co-workers at the University of Western Australia have developed a new technique to enhance the formation and accumulation of photopigments, namely chlorophyll, in algae. They cultured Chlorella vulgaris in flasks that were surrounded by a solution of gold and silver nanoparticles. Tweaking the composition and size of the nanoparticles alters the wavelengths of light allowed through to the algae.
Although light is essential for photosynthesis, excess light can damage the algae and have a negative impact of photosynthesis. Raston's technique limits the harmful wavelengths reaching the algae whilst harnessing the backscattering of wavelengths that boost photopigment formation. More chlorophyll, means more light can be captured and used to generate biomass.
As the nanoparticles are not in direct contact with the algae there are no concerns regarding contamination.
Janet Scott, an expert in sustainable chemical technologies at the University of Bath in the UK, says the technique is a wonderful piece of lateral thinking. Although the concept is not ready for commercial application just yet, 'the concept is exciting and points to interesting possibilities for exploiting the phenomenon,' she adds.
Scott's sentiments are shared by Evan Beach, program manager for Yale University's Center for Green Chemistry and Green Engineering in the US. He also comments that 'algae-to-energy technologies will only be feasible through a "biorefinery" approach in which fuels are produced alongside higher-value products.'
Raston's team now want to test their method on other photosynthetic organisms.