Novozymes expands its Taicang plant
Hepeng Jia/Taicang, China
Novozymes, the world's largest industrial enzyme producer, is expanding its presence in China. Peder Holk Nielsen, executive vice-president of the Danish firm, believes that the Chinese enzyme market and the company's increased production capacity will help it to weather the financial storm.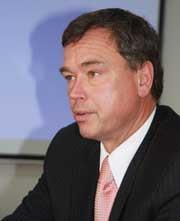 Novozymes recently spent more than 600 million yuan (US$88.2 million) expanding the capacity of its enzyme plant in Taicang, in the eastern Chinese province of Jiangsu, celebrating its opening on 24 November. The plant is now the world's largest industrial enzyme fermentation site, supplying enzymes to worldwide biofuel producers, particularly in the US and China.
Falling petrol prices are reducing the drive to use greener fuels and the biofuels market is starting to reflect this. By mid-November 2008, according to UK consultancy New Energy Finance, the prices of global green-energy stocks had fallen by 61 per cent compared with January 2008. 'But in China, the market is stable and Chinese efforts to develop bioethanol continue to grow rapidly,' Nielsen told Chemistry World . 'Most of Novozymes' products, such as detergent enzymes, are related to people's daily life and will not be dramatically influenced by the economic downturn,' he added.
Novozymes is increasing its research into enzymes for second generation cellulose-based bioethanol, with microorganism screening in China, biomolecular studies in the US, and industrial trials in Denmark.
Chinese policymakers have been cautious about developing grain-based bioethanol because of its impact on food prices, but have been enthusiastic in encouraging second generation biofuel production. In 2006, Novozymes became involved in a pilot second-generation biofuel project set up by the state-owned China National Cereals, Oil and Foodstuff Corporation. The pilot plant can currently produce up to 500 tonnes per annum of bioethanol from corn waste. The goal is for the project to be commercially viable by 2010.
Novozymes is also constructing a new enzyme plant in the US. Until this plant comes onstream, the Taicang plant will be the main supplier to the US market and will deal with any decline in US demand by increasing production of enzymes for China's textile sector, says Nielsen. The Taicang plant has been equipped to make enzymes for second-generation biofuels, and these will be its primary products once the US plant is completed.