Naked eye detection of cyanide poisoning in two minutes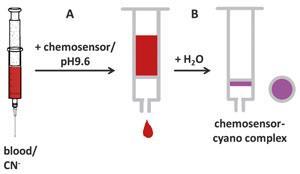 The colour of cyanide poisoning is purple, according to researchers in Switzerland who have developed a
method that enables them to quickly detect blood cyanide
levels through a simple colour change.
Cyanide poisoning as a result of smoke inhalation can have serious or fatal consequences unless an antidote is rapidly administered. Current methods for determining cyanide poisoning, including microdiffusion, microdistillation and liquid chromatography-mass spectrometry detection, can take up to an hour to give results and are not suitable for point-of-care settings.
The method devised by Christine Männel-Croisé and Felix Zelder from the University of Zürich only takes two minutes and does not require any laboratory equipment. A pinprick of blood is taken from the victim and adjusted with a pH9.6 buffer. An orange cobalt-based chemosensor (previously developed by the team) is added, the resulting solution is pressed through a syringe containing a solid phase extraction column and then water is used to flush the blood sample from the column. If cyanide is present, it will have formed a purple cyano complex with the chemosensor, which is trapped on the top layer of the column and is visible to the naked eye.
What makes this method unique, states Willie Hinze, an analytical chemist from Wake Forest University, US, is that it has all the benefits of previous techniques: the blood sample is very small, commonly used cyanide antidotes don't interfere with detection, the materials required are simple and the results can be determined by the eye. 'What I like best about it is there is no CN- releasing step because of the in situ complexation,' he says. This is a serious disadvantage with previous methods, which require the addition of acid and heating to liberate CN- from the blood sample. This can potentially generate HCN gas, which is not very useful, as Zelder points out.
Not only does the colour of the cyano complex provide an easy identification of cyanide poisoning, it is also quantitatively useful. The intensity of the colour can be used to determine the dose needed, or whether the antidote is taking effect. 'In principle, this could be done with a cell phone camera,' says Zelder. The next step is to see whether the method stands up to field testing. Zelder and colleagues are currently in discussion with emergency doctors to try it out in real situations.
References
C Männel-Croisé and F Zelder, Anal. Methods, 2012, DOI: 10.1039/c2ay25595b