The UK government's vote in favour of tripling the university fees cap could force students to think harder about career potential following science degrees
The UK government voted in favour of tripling the university fees cap to ?9000 last night, although the vote was passed by a slim margin of just 21 votes. Science groups say this could improve higher education by focusing attention on how earning potential varies across the sciences.
Student protests in London turned violent as the results of the vote were announced, with 323 in favour and 302 votes against plans to increase the current cap of ?3290.
Under the proposals, universities will be able to charge up to ?9000 in 'graduate contributions', although those charging above ?6000 will have to meet extra requirements on widening participation. Students will only begin to repay their tuition costs once they have graduated and are earning at least ?21,000, repaying fees at a rate of 9 per cent of income above ?21,000, with all repayments written off after 30 years.
Universities and science minister David Willetts said the higher education reform package was 'fair for students, fair for graduates and affordable for the nation', while business secretary Vince Cable said the coalition government had 'worked hard' to develop a 'fairer and progressive' graduate contribution scheme.
'There are quite a lot of unknowns at this stage,' says Diana Garnham, chief executive of the Science Council. 'We simply don't know yet how students are going to react to this - but what's important is to protect the ability for able students from any background to pursue Stem [science, technology, engineering and maths] subjects at university.'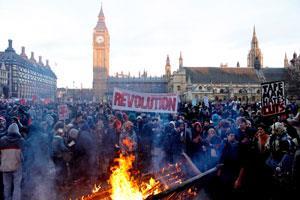 Garnham thinks the new system could bring some advantages as universities and students will have to adapt how courses are presented and selected. 'Universities will have to give much better information about the employability of the graduates on courses,' she says. 'We'll be putting much more information in the hands of the customer to choose the courses that will really equip them for well paid jobs.' This is particularly important in the sciences, she says, where she feels there has been some misrepresentation about earning potential for those studying Stem subjects: 'Although people have said you can earn ?250,000 more over your lifetime if you study physics, for example, that's not true if you studied biological sciences.'
Another concern she has is the rigidity of the payment model. In other countries there is greater flexibility in how and when fees can be paid, which could lure students abroad. 'For example, in the US, if you get a combination of a cheap bank loan, some family funding and a bursary, it may actually turn out cheaper to go there and you won't come back with a debt for your lifetime.'
'I think we're going to see big changes in the way higher education is delivered,' Garnham says. 'Although the scaffolding's now in place, I'm not sure we know what the building's going to look like.'
Mixed reactions
Wendy Piatt, director general of the Russell Group of research intensive universities said she was 'relieved' by the vote: 'Given the far reaching cuts to university funding introduced by the current and previous governments, higher graduate contributions are the fairest and only viable way forward,' she said. While the group remains concerned about the shortfall in university funding, Piatt said the vote marked 'an important step in the right direction'.
Universities UK, which represents the UK's universities, reluctantly welcomed the news, with president Steve Smith making clear that the situation was far from ideal. 'From the outset, Universities UK has opposed the budget cuts, but we recognise that the government proposals are the best option in the current circumstances,' Smith said in a statement. 'A vote in favour was crucial to provide financial stability for our universities and it means that they can plan their future.' However, he said it was now a priority for the government to clarify the details of the proposed system, and that the organisation's support for the proposals was conditional upon a long term commitment to investment in higher education.
However, the University and College Union (UCU), which represents academic staff in higher and further education, shot down the results of the vote saying there were 'no winners' in the plans. 'Students will see the cost of their degrees rocket and universities will have to charge much higher fees just to recoup the money the government is taking away in budget cuts,' UCU general secretary Sally Hunt said in a statement. 'This battle is not over and we will continue to fight the cuts institution by institution.'
Anna Lewcock