Fraunhofer Center for Silicon Photovoltaics will boost 'Solar Valley'
Ned Stafford/ Hamburg, Germany
Germany's already commanding position within Europe as a leader in photovoltaic research and manufacturing is set to become even stronger with the addition of a major new research centre in the heart of its 'Solar Valley'.
In late February, the Fraunhofer society of applied research centres announced
60 million (?47 million) in start-up funding for the Fraunhofer Center for Silicon Photovoltaics (CSP), to be based in Halle, a city formerly in East Germany. It is already one of the top solar cell manufacturing areas in the world, but it lacks a major photovoltaic (PV) research centre to collaborate with industry.
Ralf Wehrspohn, a director at the Fraunhofer Institute for Mechanics of Materials (IWM) in Halle, is involved in planning the CSP. He says work on the new CSP building will begin this spring, with construction to be completed by the end of 2010.
However, such is the demand from solar cell manufacturers clustered around Halle that the centre has already been operating with about 12 staff members in temporary rooms at the IWM since July 2007.
'We can't wait three years until the new building is ready,' Wehrspohn says. 'The industry needs our support now.'
Close cooperation
Fraunhofer, whose 56 institutes cooperate closely with industry in applied research, already runs one of the top solar research centres in the world: the Fraunhofer Institute for Solar Energy Systems (ISE), specialising in silicon PVs and new generation technology. However, the ISE's 500 staff members are based in the southwestern German city of Freiburg, while 80 per cent of Germany's solar cell production occurs hundreds of kilometers away in the former East German states of Saxony, Saxony-Anhalt, and Thuringia.
ISE solar researchers, as well as IWM materials scientists, already cooperate closely with solar firms there. But the new CSP centre in Halle will enable much more personal contact, Wehrspohn says, and when fully operational will have at least 60 staff members.
Some 40 million of the CSP's start-up funds will be used for equipment, with the remaining
20 million for building construction. Of total funding,
45 million comes from the European Regional Development Fund (ERDF),
7.5 million from the state of Saxony-Anhalt, and
7.5 million from Fraunhofer itself. An additional CSP facility, focusing on silicon PV packaging and modules research, will also be constructed at a Dow Chemicals site at the InfraLeuna chemical industry park in nearby Leuna (see
Chemistry World
, February 2007, p56).
Giant among dwarves
When it comes to ranking EU nations by photovoltaic power capacity, Germany is a giant among dwarves (see map). In 2006, Germany had an installed capacity of 3063 megawatts photovoltaic (MWp), almost 90 per cent of Europe's total capacity, according to the European Barometer of Renewable Energies 2007, published by the European Commission (see map).
A shining example of Germany's preeminence in photovoltaics is Q-Cells AG, the world's largest solar cell producer. Q-Cells is based in the Solar Valley town of Thalheim some 30 kilometres away from Halle, and has seen explosive growth since it was founded in 1999. 'The CSP is very important for us,' says company spokesman Stefan Dietrich.
The firm posted 2007 sales of
858.9 million, up 59 per cent on the year, with a production volume of 389.2MWp, surpassing previous world-leader Sharp Solar of Japan. The company expects to produce 1000MWp of silicon-based solar cells each year by 2010, with an additional 400 to 600MWp in thin film cells, Dietrich says.
Along with the National Renewable Energy Laboratory's photovoltaic centre in Golden, Colorado, and the University of New South Wales in Sydney, Australia, Dietrich ranks Fraunhofer's ISE solar institute in Freiburg as one of the top three solar research centres in the world. It is significant, he says, that the CSP will inherit much of its silicon expertise.
In addition to paying for joint research projects with CSP, Q-Cells is also endowing a professorship of silicon photovoltaics (
750,000 over 5 years) at Martin Luther University in Halle, which plans to add at least two more chairs, Dietrich says.
Spain's solar surge
With sunny Spain an ideal location for generating solar power, it's not surprising that while Germany towers over Europe in solar energy research and commercial production, Spain is the best - by far - of the rest.
In 2006, Spain had a photovoltaic power capacity of 118MWp, twice as much as its nearest rival, Italy.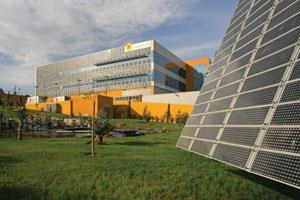 'I see future PV development in Spain as very bright,' says Antonio Luque, director of the Solar Energy Institute (IES) of the Polytechnic University of Madrid. The IES develops concentration photovoltaic systems (CPV), which use optical components to focus light onto the cell.
Back in 1998, IES collaborated with BP Solar to build a 480KWp CPV demonstration power plant in Tenerife in the Canary Islands.
Since then, Luque has also become chairman of the international scientific committee at the Institute for Concentration Photovoltaic Systems (Isfoc), which opened in July 2006 in Puertollano. Isfoc is already coordinating construction of 1.7MWp of CPV power plants with three private firms: Isofoton of Spain, SolFocus of the US, and Concentrix Solar of Germany.
Luque's newest project is the planned Centre for Silicon Technology (Centesil), scheduled to open in 2010 in Madrid. Backers include the IES and three private companies, which along with the federal government have pledged half of the
16 million start-up costs.
The idea for the centre came during the silicon shortages a few years ago, when the half dozen or so producers for microelectronics could not keep pace with demand, Luque says. Centesil will build a pilot plant to produce 50 tonnes of specialised photovoltaic silicon a year, but reaching that goal will require intensive research. 'This is not equipment that can be bought from the shelf,' he says.
Luque is confident that Spain will be able to hold its position in photovoltaic research in coming years. In addition to strong financial support from federal and regional governments, 'companies are very active in PV in Spain and start-ups are being formed continuously', he says.
Ned Stafford
Premature funeral
While up-and-coming second and third generation technologies such as thin-film and polymer-based solar cells garner more headlines, Wehrspohn believes it is far too early to start making funeral plans for silicon photovoltaics. He notes that silicon PV is efficient and durable: two strengths that should assure continued robust sales growth in coming years.
However, he admits that silicon's main disadvantage is its expense - most sales of silicon solar cells are now possible only because of government subsidies. 'If you want to cut production costs, then you need to increase the efficiency of silicon solar cells and improve production yield,' Wehrspohn says. Tackling these two goals, CSP hopes to trim the cost of silicon PV electricity to grid levels by 2015.
'Photovoltaics is currently in a period of very fast growth, and new institutes and companies are being announced each month,' says David Anderson, scientific project officer for new and renewable energy sources at the European Commission's Directorate General for Research in Brussels. Indeed, expansion is so rapid that Anderson says it is difficult to make a definitive list of major photovoltaic research centres in Europe.
But by sifting through data for the European Commission's Sixth Framework Programme, which funded research during 2002-2006, he found that 164 institutes and companies received
105 million for photovoltaic research from the EU. 'We estimate that this represents just under 20 per cent of the overall public investment in PV R&D in Europe,' Anderson says.