German pharma industry agrees to block exports of drug used in lethal injections to the US, major producer ceases manufacture
Ned Stafford/Hamburg, Germany
The German pharmaceutical industry has agreed to a request by the country's Health Minister to block exports of the anaesthetic drug sodium thiopental to the US, where the drug is used to execute criminals.
Amid reports of impending shortages of sodium thiopental for use in lethal injections, Hospira, the only producer of sodium thiopental in the US, announced on 21 January it would no longer manufacture the product. Shortly after the news, German health minister Philipp R?sler issued an appeal to German firms not to supply sodium thiopental either directly to US prisons or indirectly through other distributors for use in executions. The German Medical Association subsequently issued a strong statement in support of R?sler's call.
Sodium thiopental can be used in hospitals as an anaesthetic, but when used in executions is usually injected before two other drugs, which halt breathing and stop the heart. But in some US states sodium thiopental is used alone in high dosages for executions.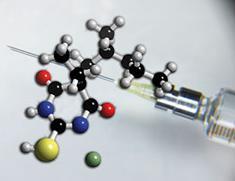 Susan Knoll, of Germany's Association of Research-Based Pharmaceutical Companies (VFA), tells Chemistry World that no member of the organisation supplies such drugs to the US for use in executions, nor will they in future. 'For members of the VFA, this is an ethical duty,' she says.
Wolfram Koch, executive director of the German Chemical Society (GDCh), says the society fully supports R?sler's recommendation. 'The GDCh position is very clear,' he says. 'According to our code of conduct, in which the GDCh and its members commit themselves against the misuse of chemistry, using chemicals to end people's lives, be it criminals or not, is certainly a misuse and unethical.' He adds: 'For us, this is not a question of freedom of trade, but of ethical behaviour.'
Koch says he does not expect any negative consequences for the German chemical or pharmaceutical industries.
Hospira had intended to switch production from North Carolina to Italy, but dropped the plans because it could not guarantee that sodium thiopental produced in Italy would not be used in executions. In a statement, the company said it 'has never condoned' the use of sodium thiopental in executions, adding: 'We regret ... that our many hospital customers who use the drug for its well-established medical benefits will not be able to obtain the product from Hospira.'
The UK in November put sodium thiopental under export controls, but in recent months there has been extensive media coverage of a small pharmaceutical company in London that has been supplying the US with the product for use in lethal injections.
Interesting? Spread the word using the 'tools' menu on the left.