Andrew Witty takes over as Garnier bows out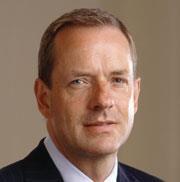 The world's second-largest pharmaceutical company, GlaxoSmithKline, has silenced the rumour mill by announcing who will replace Jean-Pierre Garnier as chief executive next year. Andrew Witty, currently head of pharmaceuticals in Europe, will take on the role as of May 2008, when Garnier is set to retire.
Witty was one of three internal candidates for the role, which has been made all the more desirable by GSK's enviably strong drug pipeline. The company has more than thirty late-stage drug candidates, ten of which are cancer treatments. 'We have a strong commitment to oncology - it's an area where we recognise significant unmet medical need,' Claire Brough, a spokesperson for GSK told Chemistry World. Tykerb (lapatinib), an oral treatment for metastatic breast cancer, was approved by the US Food and Drug Administration in March. 'There are currently very few options for late stage breast cancer, so this is an important and much-needed treatment,' added Brough.
Spend spend spend
Garnier led the company for seven years, during which time he steered it through the high-profile merger of Glaxo Wellcome and SmithKline Beecham in 2000, and split the large R&D divisions into more defined 'centres of excellence'.
'GSK is in a very good position,' Jenna Morris, a pharmaceutical business analyst from UK-based Pharmaprojects, told Chemistry World. 'Garnier has systematically bolstered the pipeline with numerous acquisitions each year since 2001.'
'We have undertaken seven deals to bring in new products and technology since February of this year,' said Brough. In October, GSK signed a deal with US biotechnology company Synta, paying $80 million (?39 million) up front for its small molecule oxidative stress inducer STA-4783, which aims to treat advanced stage skin cancer. Once all of the payments have been made for the various drug development milestones set by GSK, the deal could be worth more than $1 billion to Synta.
In the same month, the company paid a more modest $12 million up front to US-based Anacor Pharmaceuticals, in a collaboration to develop antiviral and antibacterial products. 'This deal has no late stage assets included - we entered into it for access to Anacor's boron chemistry research, which we don't have in-house and we see a great deal of potential for,' said Brough.
And the UK company is not shying away from tackling its biggest competitor on the other side of the Atlantic. GSK's human papilloma virus (HPV) vaccine Cervarix, for the prevention of cervical cancer, was approved by the European Medicines Agency (EMEA) in July, and is currently undergoing a head-to-head trial with Merck's HPV vaccine, Gardasil. When Witty finally takes the top job, he will be charged with the responsibility of maximising the returns of Garnier's multiple investments.

Victoria Gill