Cabbages are about to be saved from caterpillar attack thanks to an insecticide under development in the US.
Katharine Sanderson/Tallinn, Estonia
Sauerkraut fans can rest easy, cabbages are about to be saved from caterpillar attack thanks to an insecticide under development in the US.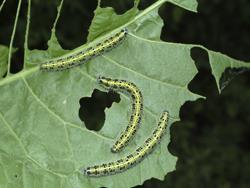 Researchers led by George Lahm at chemical group Du Pont's crop protection lab in Newark, US, have discovered a range of potent insecticides: the anthranilamides. These nitrogen-containing aromatic compounds are selective targets of the ryanodine receptor in insects. Ryanodine receptors are calcium ion channels used in muscle function.
When anthranilamides bind to insect ryanodine receptors, the insect's muscles contract, leading to paralysis and ultimately death for pests including caterpillars and the Colorado potato beetle.
This kind of crop protector will serve to protect the world food supply in the face of an ever-expanding population, as well as preventing disease transfer by insects, Lahm told a meeting of organic chemists at Balticum Organicum Syntheticum, Tallinn, Estonia.
The Colorado potato beetle has been destroying potato crops in the US for well over a century, arriving in Europe in 1877. It has not yet arrived in the UK, but is ranked a notifiable quarantine pest by the Department for Energy, Food and Rural Affairs.
The anthranilamide insecticide candidate, Rynaxypyr, is due to come to market in 2008 following successful trials in cabbage crops. 'This is going to be a compound that has extremely potent insecticidal activity and high degrees of mammalian safety,' Lahm told Chemistry World. He says his team screened thousands of analogues before discovering this new area of chemistry, the anthranilamides.
Insect ryanodine receptors are very sensitive to rynaxypyr, which targets and then binds to these sites easily. 'We all have ryanodine receptors, but those molecules are very selective for that site in insects and not at the ryanodine site in mammals,' said Lahm. This saves mammals from reaching the same fate as the unlucky caterpillars.
Mutations in the genes that encode ryanodine receptors have been linked to several muscular disorders in mammals, including cardiac arrythmia - irregular contraction of the heart muscle.
James Heck, vice-president of medicinal chemistry at pharmaceutical company Merck's research laboratories, Rahway, US, wasn't previously aware of the mode of action of ryanodine receptors other than in tests for heart failure in humans. 'I'm a little surprised that there was that big a difference between insects and humans,' Heck told Chemistry World.
The structural details of rynaxypyr remain a secret. Du Pont, keeper of that information, has invested substantially in the molecule. Lahm would not put a number on this investment. Typically a new crop protection chemical costs around $150 million (?82 million) to develop, but could net the company over $300 million annually, he said.
Agribusiness Syngenta has an exclusive worldwide license to develop Rynaxpyr in mixtures with its own insect control programmes. Dupont will commercialise straight Rynaxpyr.