Analytical chemists, counterfeit checkers, and a pharmaceutical scientist form an award-winning partnership.
Katharine Sanderson/London, UK
Analytical chemists, a company that checks for counterfeits, and a pharmaceutical scientist have formed an award-winning partnership and found a way to foil fuel smugglers.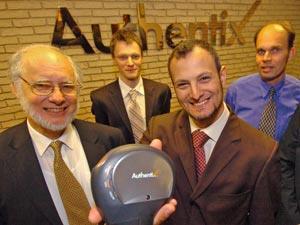 The Knowledge transfer partnerships (KTPs) are run by the UK's department for trade and industry. In each partnership an associate (usually a graduate) is teamed with a university and a company to undertake a specific project. The prize for this year's best KTP partnership was won by: KTP associate Mohammed Al-Jafari, a pharmaceuticals science PhD graduate; Authentix, a company that creates technologies to provide authentication; and analytical chemists David Goodall and Ed Bergstr?m from the University of York's chemistry department.
Al-Jafari developed a device for use in the field to detect illegal fuels and so stop illicit trading. Fuel smuggling is a global problem, and the money lost through illicit trade amounts to seven per cent of world trade, said Al-Jafari. 'The size of this problem is startling,' he said. The device uses microfluidic technology developed at York, and authentication expertise from Authentix to work out how much illegal fuel is in a sample. The device applies ideas and sciences that have been confined to laboratory notebooks for too long, said Al-Jafari.
Following on from the fuel project, a hand-held drug detector has also been developed. Authentix had no previous expertise in microfluidic technology before the KTP project. Likewise, university professor Goodall had little knowledge of the commercial sector. 'Getting the commercial awareness has helped us find out what industry needs,' Goodall told Chemistry World. He recommends the scheme be followed up in other chemistry departments in the UK.
Secretary of state for trade and industry, Alan Johnson, was at the awards ceremony in London. The KTP scheme is a microcosm of what must be achieved across the UK as a whole, he said. 'Innovation has to be embedded throughout British businesses,' said Johnson.