Keep refreshing to stay up to date
4.14pm That's all folks!
Thanks for joining us this afternoon for all the excitement of the chemistry Nobel prize announcement. Great winners and great for chemistry. Don't forget we'll be back next week with a feature length story on the winners and their magnificent molecular machines. If you've still got a hankering for more Nobel news, views and commentary then check our Nobel prize special that covers the winners work, behind the scenes interviews and Nobel thoughts from our columnists. Our news story on this year's prize can be found here. Cheerio for now, it's been fun!
4.03pm Conservative councils
Interesting from the comments section in the Guardian's Nobel prize story:
In the comment thread, TonyBuckley05 recalls the late 1980s and his time as secretary on the organic chemistry subcommittee of SERC, the UK's now defunct Science and Engineering Research Council.
Fraser Stoddart's grant proposals were always thought a bit 'way out' by the mainstream synthetic chemists; I don't think we ever gave him a grant. Then when I looked after the Molecular Electronics committee, a conversation with him revealed that he had - accidentally - produced a simple molecular switch, when one of his postgrads left a flask of chemicals on the bench while he went home for the weekend, and when he returned it didn't contain what he expected*. But he had the vision to realise what had happened. That was, I think, the start of the work which has just got him the Nobel prize.
There are, if you think about it, lots of messages of the 'believe in your vision' sort in this. I'm sure you can work some out if you have the inclination. But well done to Fraser Stoddart.
* I think that's the story, but it was 25ish years ago and memory is a fallible thing.
3.58pm Thoughts on the prize
Opinion is coming in from around the chemical community and the general feeling seems to be satisfaction and that the prize went to worthy winners, pursuing what is a highly fundamental field of study. There's certainly no complaints about the prize going to biologists this year. You can read some of the views from people in the chemistry community in our story. Derek Lowe's take on the topic can be seen over at In the pipeline as he lays out how these molecular machines went from chemical oddities to serious molecules of study.
Nice to see Dave Leigh at Manchester, who may well have been in the running for the nomination for molecular machines, congratulating the three winners.
Many congratulations to Ben, Jean-Pierre and Sir Fraser! Wonderful recognition of their outstanding achievements. #NobelPrize

— Dave Leigh (@ProfDaveLeigh) October 5, 2016
2.43pm Fraser Stoddart talks to the BBC
Stoddart has just been on the BBC's Newshour talking about the prize and a bit of Brexit politics too. You can listen here. A nice personal insight into his learning that he'd be winning the prize.
2.04pm The Simpsons did it (again)!
Back in 2014 we marvelled at The Simpson's prescience in getting WE Moerner for the chemistry Nobel prize. They've done it again – Ben Feringa was down for the chemistry prize. Does this make them better than Thompson Reuters when it comes to predicting laureates?
The Simpsons got the #ChemNobel right! This table has been actually hanging on Ben Feringa's office door for years! #realtimechem pic.twitter.com/Gk3XUhKe68

— Piotr Nowak (@pnowak87) October 5, 2016
1.47pm Read all about it!
Molecular machines have taken over the chemistry Nobel prize this year, but there's no grey goo yet. You can read the story of molecular machines here and we'll be bringing you a feature length article next week.
12.49pm Winning ways
As is so often (always?) the case, Nobel prize winners have won a slew of other awards before they get the nod from Stockholm. Jean-Pierre Sauvage, an emeritus professor at the University of Strasbourg in France and at the CNRS, and also distinguished visiting scholar at Northwestern University in the US (where, perhaps not incidentally, Stoddart is based) has received both bronze and silver medals from CNRS (can he get a gold now?). He has also won the Prelog gold medal from ETH Zürich, and the Centenary Lecturer medal from the Royal Society of Chemistry. Sauvage has also been made a Member of the French Academy of Sciences and the European Academy of Sciences. He is Chevalier de la Légion d'Honneur (the equivalent of a British knighthood).
Ben Feringa was appointed academy professor at the University of Groningen in 2008. He received the prestigious Spinoza Award in 2004, and also other honours like the Prelog gold medal from ETH Zürich, the Paracelsus Award, the Van't Hoff medal, the Marie-Sklodowska Curie medal, and recently the August Wilhelm von Hoffmann medal awarded by the German Chemical Society. Feringa has been a fellow of the Royal Society of Chemistry since 1998, and has received the RSC Organic Stereochemistry Award and the RSC Award for distinguished service. He is a member of the Royal Netherlands Academy of Science and the Academia Europaea. In 2008 he was knighted by the Queen of the Netherlands.
Sir J Fraser Stoddart works out of Northwestern University and has received the prestigious Albert Einstein World Prize in Science, the Arthur C Cope Award from the American Chemical Society and the Davy Medal of the Royal Society. He has been a fellow of the Royal Society of Chemistry since 1978, and in 2014 the RSC awarded him the Centenary Prize. He was made an Honorary Fellow of the RSC in 2011. He is an appointed member of the German Academy of Natural Sciences, the American Association for the Advancement of Science, the American Academy of Arts and Sciences and the National Academy of Sciences of the US. In 2007 he was knighted by Queen Elizabeth II.
12.21pm Nanocars rev up
We've been following Ben Feringa's work for some time at Chemistry World. You can read about one of his first molecular motors here. He's also credited with creating the first nanocar with wheels that actually spin. The nanocar's wheels made use of four molecular motors that Feringa's group had previously built. The wheels spin thanks to electronic and vibrational excitation that provides the energy to work the motors. The first video provides a graphical representation of how it works.
The second is 60 scanning tunnelling microscopy images asembled into a video of the nanocar in motion. You can read the full paper here.
11.51am Ben Feringa thanks students, co-workers for making prize possible
Touching scenes from the University of Groningen as he meets up with his students and everyone else from the lab.
Ben Feringa addresses his students elegantly and humbly following his #NobelPrize win: https://t.co/HSlS0ocYuD

— Kit Chapman (@ChemistryKit) October 5, 2016
11.39am Close ties
Often getting interviews with Nobel prize winners is exceptionally tough but Chemistry World is extremely fortunate this year in that both Ben Feringa and Fraser Stoddart are on the board of the magazine. As a result of our close collaboration with both of these winners Feringa has written for us in the past. You can read his editorial on collaboration, the global scientific enterprise and Brexit here. We've also reported on the molecular machines work of Stoddart, Feringa and Jean-Pierre Sauvage in another feature by Philip Ball in 2010: Welcome to the machine.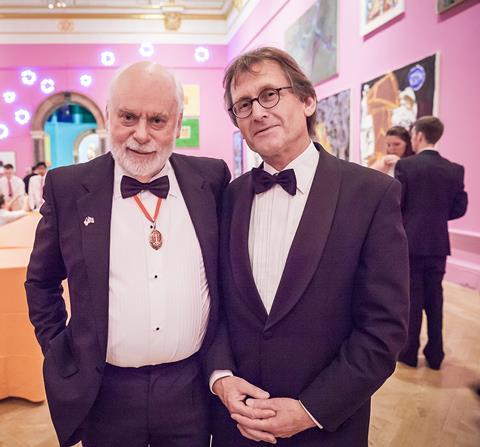 10.59am Out of left field
As is so often the case the chemistry Nobel prize committee have shown they aren't above surprising everyone. Few predicted molecular machines with most plumping for Crispr (not this year but soon I suspect) or lithium–ion batteries (will they ever win a prize?) but hats off to Stuart Cantrill at Nature Chemistry who correctly predicted this prize. As always with Nobel prizes only three people maximum can win so people are already talking about who might have missed out and David Leigh at Manchester is one person already being mentioned. We'll be updating the blog with further news this afternoon and we'll have a story on the winners and their work soon so stay tuned.
10.49am We have the winners
Congratulations to to Jean-Pierre Sauvage, Sir J Fraser Stoddart and Bernard L Feringa for winning the prize 'for the design and synthesis of molecular machines'. Want to read about Stoddart and Feringa's work? We've got a feature on them and their molecular machines.
10.34am Movement at the Royal Academy
Things appear to be getting ready to almost begin to start…
10.30am Women winners
Ada Yonath was the last woman to win the chemistry Nobel prize back in 2009. There was a 45 year gap between Yonath and the last woman to win the chemistry Nobel prize, Dorothy Hodgkin. Perhaps we'll see another female winner this year…
#NobelFacts The 4 Nobel women #chemistry: Marie Curie, Irène Joliot-Curie, Dorothy Hodgkin and Ada Yonath pic.twitter.com/oVqHzulO6H

— The Nobel Prize (@NobelPrize) October 5, 2016
10.20am How it all works
If you want to find out more about how the whole nominations process works for the Nobel prize then you can't do any better than getting it from the horse's mouth. You can watch us as we talk with Bengt Norden, who headed up the chemistry committee for a decade. He gives us his insights on the rules that govern the prizes, what it takes to win a Nobel and how they decide who should win, given that at most only three people can be winners in any given year.
10.14am More from the Twittersphere
#chemnobel day is the one day a year that some chemists will gripe that not everything is chemistry#realtimechem #realtimegripery

— Alex Goldberg (@AlexFGoldberg) October 5, 2016
I think #chemnobel Day is like Christmas Day. Someone gets a big present but it's not you and everyone is sad they didn't get what they want

— Kit Chapman (@ChemistryKit) October 5, 2016
10.06am The typical chemistry Nobel prize winner
The stattos over at fivethirtyeight.com have done a bit of work looking at the winners of the chemistry Nobel prize over the years. Looking at the trends they've come to the conclusion that since 1980 the times they are a changing and winners are less and less likely to come from the UK or Germany. Israel, Japan and (of course) the US are where the winners are most likely to be working.
9.59am Data viz
Last year, the good people over at Chemical & Engineering News wowed us all with their interactive graphic on which field of chemistry the prize has gone to over the years. This year they've been trawling the Nobel prize's archives to get the skinny on who received how many nominations before winning (or in some cases not winning) the prize during its first 50 years (the Nobel committee doesn't release the data on nominations until 50 years has passed).
9.53am Taking a moment to remember
This year we said goodbye to Harry Kroto, who won the chemistry prize 20 years ago, along with Bob Curl and Rick Smalley for their discovery of carbon-60 or buckminsterfullerene, also more affectionately known as bucky balls. If you'd like to read an excellent retrospective on Kroto's life then check out our feature. Another giant of chemistry also passed away this year, Ahmed Zewail, who was best known for his work using ultrafast femtosecond lasers to study chemical reactions. Roger Tsien, who won the chemistry prize for his work on green fluorescent protein that revolutionised the study cellular processes, sadly passed away this year too. It's been a bad year for deaths among chemistry Nobel laureate this year, as Walter Kohn, who pioneered density functional theory, died in April as well.
9.42am All your Nobel needs covered
We have a wealth of Nobel prize coverage – so much in fact that we've had to give it its own special section. Check it all out here.
9.36am Another reason to hope lithium–ion batteries win
If Goodenough wins #chemnobel, I hope he lets out his signature laugh https://t.co/xRRxcp5pAV

— Matt Gunther (@MattGunther87) October 5, 2016
9.33am Intra-office discord
In the Chemistry World office there's no strong consensus on who's a good bet for this year's prize. A number of people think Crispr is in with a shot, but others think it's still too soon and will need to wait for the tug-of-war over the rights to the technique to die down. Goodenough and his lithium–ion batteries is another popular choice (our features editor swears he started Nobel speculation around Goodenough eight years ago, but we don't know whether to believe him or not). We wouldn't be surprised if the decision was another one that came out of left field like the 2011 chemistry prize that went to Dan Shechtman for his discovery of quasicrystals. Tweet us your opinion on who you think stands a good chance of the Nobel nod.
9.28am The Twitterati
Plenty of chatter on the #chemnobel hash tag. People seem to be betting on either Crispr or lithium–ion batteries…
9.21am More Nobel prize facts
We weren't joking – there's a lot of interesting facts and figures over on the Nobel prize website. You can find out who has declined a Nobel prize over the years, for example.
9.11am Pastries explain prizes
After the Nobel prize in physics was announced yesterday, no doubt many people were furiously searching for what a 'topological phase of matter' means. But one committee member was on hand to explain the phenomena with… pastries. Thors Hansson deployed a cinnamon bun and a bagel to discuss topology, all while resisting the urge to eat them.
9.02am Picking a winner
As always there's plenty of crystal ball gazing going on. You can check out some of the predictions people have been making, including the number crunchers over at Thompson Reuters in our story.
Other predictions that have come out recently include Chemistry World columnist and In the pipeline blogger Derek Lowe's. Derek's divided up his potential winners into such categories as beat the reaper (those whose discoveries were made a looong time ago), holy cow (for amazing breakthroughs) and, of course, biologists!
There have also been a couple of polls trying to harness the wisdom of the crowds. Over at Chemistry Views no great consensus emerged on who it might be but the duo behind Crispr were leading the pack. If you want to find out exactly what Crispr actually is check out our primer here.
A poll by Nature Chemistry had the invention of lithium–ion batteries leading (just). This has been the personal pick of features editor for some time (he secretly believes he was the first to have said it). And of course we've got a profile of the man behind lithium–ion batteries, John Goodenough.
OK, time for our own #chemnobel poll! What topic do you think will win the #NobelPrize for Chemistry in 2016?

— Nature Chemistry (@NatureChemistry) September 29, 2016
Chemical & Engineering News also held their annual discussion on who might get the Nobel nod this year. You can still watch it here.
8.49am Nobels in numbers
While the excitement builds, let's entertain outselves with a few facts and figures on the chemistry Nobel prize from the award's website, which is well worth a poke around on as it's packed with interesting facts, figures and interviews.
In all 107 chemistry prizes have been awarded since 1901.
The prize wasn't awarded in eight different years as no discoveries of sufficient magnitude were made (previously committees would only award Nobels for discoveries made that year, something that has now ended). The last time the Nobel prize committee decided against awarding the prize was 1942.
Four women have won the chemistry prize (Marie Curie, Irene Joliot-Curie, Dorothy Crowfoot-Hodgkin and Ada Yonath).
The average age of chemistry prize winners is 58 years old, with Frederic Joliot (Irene Joliot-Curie's husband) the youngest winner at 35 years old and John Fenn the oldest at 85.
The chemistry prize has gone to a single winner 59% of the time
8.42am Double prize winners
In case you were wondering how many other people (or organisations) had won more than one Nobel prize, the answer is six altogether. Linus Pauling is mentioned below, John Bardeen won the physics prize twice (1956 and 1972), Marie Curie won the physics prize in 1903 and chemistry prize in 1911 and Frederic Sanger won the chemistry prize twice (1958 and 1980). Two organisations have won a Nobel prize more than once – the International Committee of the Red Cross won the peace prize three times (1917, 1944 and 1963) and the United Nations High Commission on Refugees won the peace prize twice (1954 and 1981). Obviously Sanger was a huge figure in the chemistry field and you can read about his life here. Sadly he passed away in 2013.
8.21am Wise words
Some inspirational words from past chemistry prize winner Linus Pauling, who won in 1954, (he also won 1962 Nobel peace prize, one of the few people to have won more than two Nobel prizes in any category) and organic chemistry giant Derek Barton, who won in 1969.
Before we go any further wise words from some past chemistry winners
Some classic #quotes before this week's #chemnobel.

Linus Pauling / Derek Barton pic.twitter.com/NnaKucNTfc

— Dr Marc Reid (@reid_indeed) October 3, 2016
8.13am Welcome!
Thanks for joining us in the run-up to the highlight of the awards season for chemistry. We'll be bringing you all the news and gossip while we're waiting for the announcement from the Royal Swedish Academy of Sciences in Stockholm, followed by comment and reactions after the winner(s) have been named. We're expecting the announcement at 11.45am central European time (10.45am UK time). You can also keep up with what's going on by following us on Twitter @chemistryworld and why not follow the hash tags #chemnobel and #nobelprize to check out what others are saying. You can follow the announcement, which is being live-streamed from Stockholm, above.
And to kick us off a quick reminder that last year's chemistry prize went to Tomas Lindahl, Paul Modrich and Aziz Sancar for unravelling the process of DNA repair. You can read our take on it here.