A mucoadhesive hydrogel has been developed for once-a-day nasal delivery of insulin
An international team of scientists has developed a novel insulin delivery system for nasal administration. The study aims to provide an alternative to regular injections through the delivery of insulin via the nasal membrane in the form of a hydrogel. This route offers a relatively high bioavailability, avoidance of the first-pass effect (in which a drug's concentration is reduced before it reaches the systemic circulation) and painless administration.
Considerable research effort has been dedicated to developing alternative non-invasive insulin delivery systems, including oral and transcutaneous administration. The major limitations of nasal delivery are the rapid mucociliary clearance of a drug to the nasopharynx, resulting in a short time span for its absorption, and the low permeability of the nasal membrane to peptides such as insulin because of tight junctions between epithelial cells.
Hamde Nazar at the University of Sunderland, UK, who led the team while she was at the University of Portsmouth, explains that 'characteristics of mucoadhesion and the ability to facilitate transport of insulin through the transient opening of tight junctions were achieved through the employment of trimethylated chitosan'. In combination with additives glycerophosphate and polyethylene glycol, their formulation transitions to a gel state upon exposure to the warm physiological temperature within the nasal cavity, providing a barrier to the continuous clearance mechanism of the cilia and prolonging the residence at mucosal surfaces.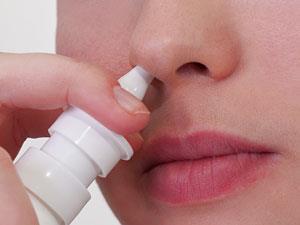 Vicky Kett, a member of the drug delivery research group at Queen's University Belfast, Northern Ireland, remarks that the in vivo experiments that the team carried out in rats demonstrate 'good insulin release and clear effects on glucose levels. The use of a thermogelling system offers clear advantages over solutions that are rapidly cleared to the nasopharynx.' She also notes that 'many insulin nasal formulations, such as Nasulin developed by CPEX Pharmaceuticals, US, showed early promise but failed in clinical testing, so there is some way to go before this formulation could be developed into a licensed product.'
Nazar's team plans to extend their work by developing a smart hydrogel system able to respond to glucose levels and allow a proportional release of insulin, eliminating the need for regular blood monitoring and dosage adjustment.