New lithium mineral reserves in Finland could ease Europe's reliance on countries like China for supplies of the material
Finland may soon become a viable source of lithium minerals as new reserves are identified that could help ease Europe's reliance on countries such as China for supplies of the material.
Keliber, the Finnish subsidiary of Norwegian company Nordic Mining, has found promising additional resources of lithium bearing spodumene pegmatite in Ostrobothnia in western Finland. Spodumene (LiAl(SiO3)2is a source of lithium used in batteries.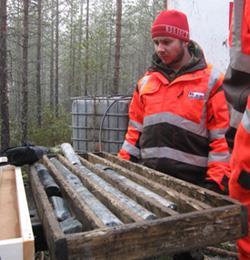 'It would appear that the quantity of ore is significantly larger than earlier thought and the impact of this on our lithium projects is significant,' said Ivar Fossum, managing director of Nordic Mining.
Demand for lithium minerals has grown in recent years driven by the importance placed on lithium-ion batteries as next-generation power sources for technologies such as hybrid electric vehicles. But manufacturers are largely dependent on sources in Chile, Argentina and China.
'We are still investigating and exploring the resource potential in the area, so we have not yet reached a level where we have a firm estimate of the available and minable resources,' Nordic Mining's chief financial officer Lars Gr?ndahl tells Chemistry World. There are very few lithium projects in Europe, says Gr?ndahl, adding that the endeavour should be considered 'strategically very interesting' from a European perspective.
If the lithium project goes ahead,
50 million (?42 million) would be needed to begin operations, which will commence two years after construction starts. Gr?ndahl suggests that a combination of loans from banks and state-owned funding institutions in the Nordic region, together with equity would be used to finance the project.

Keliber plans to be the first lithium carbonate (Li2CO3) manufacturer in Europe, and has developed an environmentally friendly method of making Li2CO3from spodumene using biogas from biological waste as the energy and raw material for the process.
Although the economic downturn has had an impact on lithium supply, demand and prices, the outlook to 2013 is optimistic, particularly as lithium secondary batteries for automotive uses are now reaching commercialisation, according to market research from UK-based Roskill Information Services.
Not all mining consultants agree on the future of the many lithium projects springing up globally ahead of projected demand, however. Lithium mining consultant Edward Anderson, chief executive of Canada and US-based TRU Group, believes it is unlikely that spodumene-based projects will be able to compete with brine sources, trapped millions of years ago at the bottom of salt lakes. Some 90 per cent of lithium today comes from brine. These sources are 'very sustainable, low cost, highly competitive, and cannot be beaten,' Anderson suggests.
Helen Carmichael