Full-speed ahead for clinical trials of recently discovered drug hopeful
Ned Stafford/Hamburg, Germany
Scientists who published a paper last week describing how they isolated a natural component of human blood that defends against the HIV-1 virus are now moving quickly to test their ideas clinically in the hope of bringing a new class of HIV-blockers based on peptide therapeutics to market.
Wolf-Georg Forssmann, co-author of the HIV-1 study that triggered headlines around the world last week after being published in the journal Cell, told Chemistry World that Phase I clinical trials using the natural component will begin by the end of the year at Hannover Medical School in Germany.
Forssmann, director of Experimental and Clinical Peptide Research at Hannover Medical School, says he has learned over the years not to be 'overly optimistic' before clinical trials for new drugs begin. 'I have been involved in several projects and it is difficult to predict,' he said. 'We have had some failures.' However, he concedes he feels confident about the new study's findings: 'I think what we have found is an inhibitor. We have a significant possibility that this will hinder HIV infection.'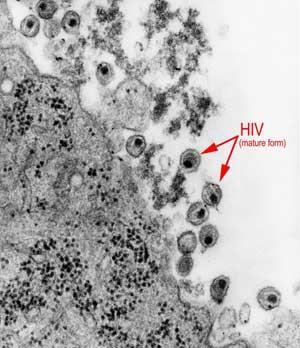 The researchers screened a comprehensive peptide library generated from human hemofiltrate. They found that fragments of an abundant blood molecule, which they dubbed Virus-Inhibitory Peptide (Virip), is a broad-based inhibitor of HIV-1. They also found that a few amino acid alterations in the fragment could enhance potency by two orders of magnitude. Virip and its derivatives remained effective against drug-resistant HIV strains, making them 'highly promising for further clinical development,' according to the team.
Study co-author Frank Kirchhoff of the University of Ulm in Germany says about 20 different HIV blockers are now in use, with each falling into one of four categories: nucleoside reverse transcriptase inhibitors; non-nucleoside reverse transcriptase inhibitors; fusion inhibitors and protease inhibitors.
'You want a lot of drug classes because multi-drug resistant viruses are starting to show up more and more,' said Kirchhoff.
The clinical trials at Hannover Medical School will be directed by German biotech firm VIRO Pharmaceuticals. VIRO is now finalizing an application package to be submitted to regulators, who must give approval before clinical trials can begin, said Forssmann.
Phase I trials would test the inhibitor on 10 to 30 patients infected with HIV but who are still healthy. Each patient would receive the inhibitor intravenously continuously for 10 days, which is the time necessary to interrupt the reproductive cycle of the HIV virus, said Forssmann. Phase II trials would begin next year with around 120 patients receiving different doses on different time scales.
Forssmann declined to predict when VIRO could bring a new HIV blocker to market. 'We would have to discuss that with the authorities - FDA in the US and EMEA in Europe,' he said.
VIRO is a subsidiary of German firm Pharis Pharma Holding, of which Forssmann is a majority shareholder. Pharis focuses on antiviral drugs resulting from Forssmann's peptide therapeutics research, and owns about two-thirds of VIRO.
Sreten Bogdanovic, managing partner of Biophoenix, a UK biomedical consultancy, told Chemistry World that more than 40 peptide-based products are commercially available worldwide, with at least six peptide-based products in the registration process.
In the US alone, an estimated 750 clinical candidate peptides are currently under investigation, with some 200 peptides in clinical trials at any given time, said Bogdanovic.
The majority of peptide-based therapeutics on the market are used in the treatment of cancer, he said. Other major applications include cardiovascular diseases, infectious diseases, and metabolic conditions.