Positive results from two late stage trials offer hope for sufferers of the autoimmune disease lupus
Patients with the disease systemic lupus erythematosus currently have few treatment options, but a new treatment is showing great potential in late-stage testing and could reach the market within the next 18 months.
Lupus is an autoimmune disease that affects more than five million people worldwide. It causes the body to produce antibodies against its own tissues, particularly the skin, joints, blood and kidneys, and patients vary dramatically in the symptoms they display. That makes it a tough disease to treat, and there is a long list of drugs that despite early promise have failed to show benefit in clinical trials (see table).
'Lupus has a bit of reputation as a graveyard for therapies,' says David Isenberg, a lupus specialist at University College Hospital in London, UK.
However, a new therapy, GlaxoSmithKline and Human Genome Sciences' Benlysta (belimumab), may be about to buck the trend and avoid the lupus graveyard. It works by blocking the production of autoantibodies by plasma B-cells, the immune system's primary antibody-producing cells. If approved it will be the first new treatment for lupus in decades.
Results from a Phase III trial (BLISS-52) unveiled earlier this year found that Benlysta reduced symptoms in patients with lupus, and these encouraging data have now been backed up by a second trial, (BLISS-76). The companies are now planning to file for regulatory approval in Europe and the US later this year.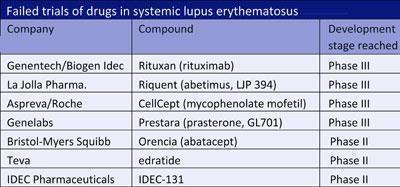 'The headline message is that the drug met the primary endpoint, which is very stringent, so I take the positive from the results,' Isenberg told Chemistry World.
At present patients can only be treated with steroid drugs and immunosuppressants, which can be described as 'our best worst drugs,' says Isenberg. These can be effective but may cause serious side effects such as osteoporosis, diabetes and cataracts.
'We are moving from an era of serendipity to sense with lupus,' he added. 'Many of the drugs used today were developed for other conditions. Here we have a drug specifically developed for lupus showing efficacy, and that is very exciting.'
Benlysta and another drug which recently showed promising efficacy in Phase IIb trials, UCB and Immunomedics' epratuzumab, will likely be used initially in patients for whom conventional therapies have not worked or are unsafe.
Isenberg believes that in time they may also be used intermittently to avoid use of oral steroids altogether. A similar approach using two other drugs - Rituxan and CellCept - has been tried by a team of UK nephrologists led by Liz Lightstone at Imperial College London with encouraging results.1
'The trials of Benlysta and epratuzumab are groundbreaking, turnaround events,' says Isenberg. 'They have changed the atmosphere around lupus quite considerably.'
Phil Taylor
References
1. Pepper R et al, 2009, Nephrology Dialysis Transplantation, DOI:10.1093/ndt/gfp336