Great Lakes pollution dispute
Poor quality science is compromising a seven-year US federal study searching for links between industrial pollution and health problems around the Great Lakes in North America, says an independent panel.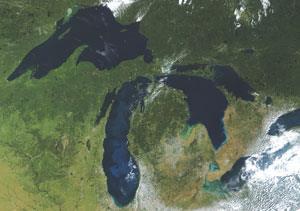 An Institute of Medicine (IoM) committee invited to analyse the US Centers for Disease Control and Prevention (CDC)'s report found that questionable data and overstated conclusions could hamper efforts to determine if people living near the lakes face increased health risks. Work on the report started in 2001. Doubts arose when a 2007 draft version was leaked, prompting the CDC to delay the document's planned release and request an independent review. That draft, since taken offline, linked exposure to toxic chemicals such as mercury, dioxins, and polychlorinated biphenyls, to higher rates of infant mortality, cancer and other health problems in counties in eight states along the Great Lakes, potentially affecting up to nine million people.
The IoM committee says the mishandling of pollution and health data could erroneously suggest links between contamination and health problems. The CDC is now re-evaluating the data.
ACS open access agreement
As Chemistry World went to press, the American Chemical Society (ACS) was expected to finalise an agreement under which, for a fee, it will deposit published articles into open access repositories, such as PubMed Central (PMC), and allow their content to be text-mined, hyperlinked, copied and redistributed, for non-commercial research and education purposes. The altered model would have direct consequences for researchers funded by the UK funding bodies, the Medical Research Council (MRC) and Wellcome Trust, who require that all manuscripts be deposited into open access repositories but are currently advising authors to avoid publishing with the ACS.
ACS already offers an option known as 'AuthorChoice' where authors - on paying a fee of up to $3000 (?1675) - can post copies of their manuscript in institutional repositories. But this option requires authors, not the ACS, to undertake the deposition to PMC, while the licence that accompanies the articles restricts any further hyperlinking or text-mining of the deposited manuscript. An improved agreement would likely end the UK funding bodies' recommended boycott.
Coupled proteins to reveal drug hits
Researchers based in France have come up with a sensitive way of detecting when a molecule binds to a protein. They attach the protein (a G-protein coupled receptor, a key drug target found in cell membranes) to an ion channel. When a ligand binds to the protein, forcing it to change shape, the ion channel levers open or shut rather like an electrical switch, and produces a measurable current.
The idea, which required nifty genetic engineering, may be more sensitive or direct than other binding assays, such as radioactive or fluorescent tags. The research is reported in Nature Nanotechnology (DOI:10.1038/nnano.2008.242).
Grasslands emit greenhouse gas
The debate over whether plants emit methane - a potent greenhouse gas - has swung back and forth since Frank Keppler, of Germany's Max Planck Institute for Nuclear Physics, made the claim in January 2006. Now researchers from the Chinese Academy of Sciences, Xining, have found further evidence that plants emit methane - but that the emissions depend not just on plant species, but also on where they are growing.
Studying an area of Tibetan alpine meadow, the team, publishing in Biology Letters (DOI: 10.1098/rsbl.2008.0373), found that shrubs took in methane, while herbaceous grasses emitted it - directly contradicting earlier research conducted in Inner Mongolia. Keppler thinks the different environments in which the plants are growing is the key, and says he is working on the mechanism by which plants might emit
the greenhouse gas.
Microfluidics in a flash
US scientists have made microfluidic devices using only paper, a pen, and sunlight. The cheap and simple equipment could be used in the developing world for diagnosing disease and monitoring water.
George Whitesides' group from Harvard University made special paper impregnated with photoresist (a light sensitive chemical) and sandwiched it between a film and backing paper. A pen, or printer, writes the microfluidic pattern, and the paper is exposed to sunlight; polymerising the photoresist where it's not covered by ink. The film and backing are removed and the rest of the photoresist is rinsed away, leaving channel patterns as small as 200 m m wide.
The team, publishing in Lab on a Chip (DOI: 10.1039/b811135a), say the patterns can easily be reproduced with a photocopier, and the cost of materials per device is as low as one to
three US cents.
Failed anxiety drug could treat cancer
Why can siramesine, a drug developed to treat anxiety but abandoned in 2002 after disappointing clinical trials, kill cancer cells? Scientists based in Finland think the answer could lead to a new type of cancer treatment which targets small messenger molecules in cells, rather than the usual proteins. The team, publishing in Journal of the American Chemical Society (DOI: 10.1021/ja800516w), found that siramesine binds strongly and specifically to phosphatidic acid, an important molecular messenger involved in signalling pathways that promote cell survival. Because of its anxiety history, siramesine has already proved safe for humans in clinical trials - an encouraging sign from the point of view of drug development.
Contaminated milk scandal
China launched a nationwide investigation after baby milk powder contaminated with melamine affected the health of over 50 000 babies in the country. As Chemistry World went to press, four babies were reported to have died and hundreds had kidney stones. And tests by Hong Kong's food safety watchdog found that some liquid milk, ice cream and yoghurt had also been contaminated. Milk from more than 20 companies, including one of China's best known brands, Mengniu Dairy, contained melamine. The contamination is believed to have occurred at milk collection centres, where the chemical could have been added to boost apparent protein content. Dairy firms judge milk quality largely by the protein content, which they estimate from nitrogen concentrations. When added to milk, melamine - a white crystalline chemical used in plastics, fertilisers and cleaning products - raises nitrogen levels. The scandal follows last year's pet food scare in the US, where imported Chinese animal feed laced with melamine and cyanuric acid was blamed for the deaths of 16 pets, and for injuring thousands more.
Floral scents trick pollinators
Flowers include repellent aromas as well as attractants in their finely tuned mix of scents to maximise their chance of reproducing, according to research from the Max Planck Institute for Chemical Ecology in Jena, Germany. Publishing in Science (DOI: 10.1126/science.1160072), the researchers show that while attractant chemicals entice hummingbirds and insects to flowers, repellent chemicals are needed to stop one visitor taking all the nectar.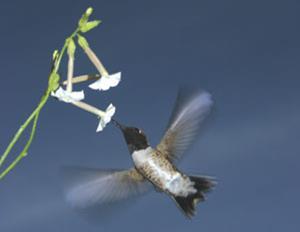 The team studied the tobacco flower, in which they knew that nicotine was the most important repellent, and benzyl acetate the most potent attractant, to would-be pollinators. Using RNA interference - a gene silencing technique - the team blocked the biosynthetic pathway of each chemical to see how that affected the plant's ability to reproduce. They then video-monitored the plants to find which pollinators were visiting them, and carried out a kind of botanic paternity testing to see which plants had been most successful at producing seeds.
Cocaine flushing
A naturally occurring enzyme that slowly breaks down cocaine in the body could be the key to quickly flushing out an overdose of the drug - now that it has been modified by chemists based at the University of Kentucky, US.
Chang-Guo Zhan and colleagues used computer simulations to see how tweaking the structure of blood protein butyrylcholinesterase (BChE) would change how quickly it could break down cocaine.
They then synthesised their best mutant, predicted to have a 2000-fold improvement in catalytic efficiency, and showed that in mice it did indeed prevent death from highly toxic cocaine doses. Because the modified protein differs by only five amino acids from its natural structure, the researchers hope it will have few side effects in humans, though they've done no tests yet.The team, publishing in Journal of the American Chemical Society (DOI: 10.1021/ja803646t), say the early success validates their enzyme-modifying method.