After ranitidine recalls, EU regulators instruct companies to review all their products for potential impurities
Drugmakers and regulators around the world are mobilising in response to new discoveries of products containing probable carcinogen N-nitrosodimethylamine (NDMA). In particular the European Medicines Agency (EMA) now says that companies should check all their drugs for this and other nitrosamines.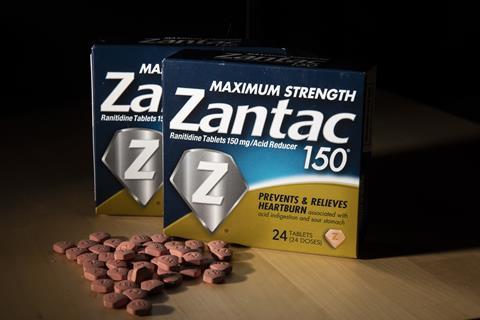 Mona Abdel-Tawab, deputy scientific manager of the Central Laboratory of German Pharmacists welcomes the decision. 'It's really high time to initiate such a review on the NDMA content in all drugs,' she tells Chemistry World. 'The probability is very high that we are dealing here with a much more general problem than simply the contamination of individual drugs or compounds.'
This move comes after the US Food and Drug Administration (FDA) said that it had learned of low levels of NDMA in ranitidine, originally branded as Zantac, on 13 September. The warning came from New Haven-based online pharmacy Valisure, which tested the medication partly because the daughter of one of its cofounders was prescribed ranitidine syrup. On the same day the European Medicines Agency (EMA) announced that it would start a review of ranitidine medicines, as well as its much broader measures.
This comes after various different brands of heart drugs such as valsartan have suffered from nitrosamine contamination, apparently resulting from process changes since 2012. Consequently the EMA is advising drug marketing authorisation holders to review all of their products for nitrosamine contamination within three years.
Additionally, in April the EMA called on companies manufacturing diabetes medicine pioglitazone to test their products and check processes for nitrosamine impurities. This comes after it had conducted an EU-wide safety review, setting legally-binding limits for nitrosamine impurities in sartan blood pressure medicines. 'It is of paramount importance that we learn from our experience with sartans and take a proactive approach for other classes of medicines,' says the EMA's executive director, Guido Rasi.
Worldwide withdrawals
The new problem with ranitidine was found in an unusual way. David Light, Valisure's chief executive officer, says that it is the only US online pharmacy with its own analytical laboratory, and tests every medication batch it receives. Earlier in 2019 it added gas chromatography–mass spectrometry (GC–MS) processes recommended by the FDA in response to valsartan contamination. The personal connection to its founder's daughter made ranitidine one of the first medications tested.
It is important to learn from our experience with sartans and take a proactive approach for other classes of medicines
Valisure therefore notified the FDA through a citizen's petition dated 9 September. The FDA 'has established a permissible daily intake limit for the probable human carcinogen, NDMA, of 96ng,' it reads. 'Valisure has detected NDMA in excess of 3,000,000ng per tablet when analyzing ranitidine products, likely due to an inherent instability of the ranitidine molecule.' Valisure therefore sought a suspension of sales and recall of all ranitidine in the US. According to ClinCalc.com, the most recent US prescription figure for ranitidine was 15.3 million in 2016, compared to 8.4 million for valsartan.
Following the FDA's original warning, Sandoz, Apotex and GSK, the original developer of Zantac, have all voluntarily recalled ranitidine products. Governments in Canada, France and Italy have all called for nationwide withdrawals or halts on distribution.
Inherent instability
Light argues that ranitidine has an inherent problem affecting all suppliers, because the drug's structure contains both nitrite and dimethylamine groups that can react together. Around 10mol% can convert to NDMA at the 130°C oven temperature used in the GC–MS protocol over its 15 minute duration. But this can also happen in the body, he says, citing a clinical study from 2016.1
However, the FDA says that the method Valisure used is 'not suitable for testing ranitidine' because of that high-temperature conversion. To test ranitidine samples, the FDA recommends using Liquid chromatography–mass spectrometry, which shows much lower NDMA levels, says Charles Kohler, FDA trade press officer. 'Although NDMA may cause harm in large amounts, the levels the FDA is finding in ranitidine from preliminary tests barely exceed amounts you might expect to find in common foods,' Kohler says.
Besides the instability of ranitidine, Abdel-Tawab notes NDMA contamination can arise from solvent recycling. 'From the valsartan scandal we already know that dimethylformamide may be a source of NDMA contamination and the risk is higher if the solvents are not properly cleaned after recycling,' she tells Chemistry World. 'Also water might be a source of NDMA contamination, if it is not controlled adequately.'
Nevertheless, countries like the US that are not completely withdrawing ranitidine are therefore misunderstanding the problem, Light asserts. He recommends that patients taking ranitidine immediately consult their doctor for an alternative. 'There are many available that do not possess this inherent problem of degrading into NDMA,' he says.
However the EMA's advice stops short of this. Patients should 'continue to use their medicines as normal and should not stop taking any prescribed medicines unless they have been told to by their healthcare professionals', an EMA spokesperson says. The FDA and the UK's Medicines and Healthcare Regulatory Authority offer similar advice. People in the US buying ranitidine over-the-counter could consider alternative drugs, the FDA's Kohler added.

A science writer based in Exeter, UK