Pfizer snaps up rival pharma firm Wyeth for $68 billion
Pfizer has agreed to pay $68 billion (?48.3 billion) for rival US biopharmaceutical firm Wyeth, gaining access to its rich product portfolio and promising pipeline of experimental drugs. Pfizer hopes Wyeth's products will fill the financial void that cholesterol drug Lipitor (atorvastatin), which currently brings in $13 billion a year, will leave when it loses patent protection in 2011.
The merged company will boast a product portfolio that includes 17 blockbuster drugs covering a broad range of therapeutic areas, such as cardiovascular, oncology, women's health, central nervous system, and infectious disease. The news of the deal comes after weeks of speculation over who was in Pfizer's sights for a takeover, and has also put an end to Wyeth's takeover talks for Netherlands-based vaccine manufacturer Crucell.
Deals of this size are never without consequences, and in this case, Pfizer has already said it will be looking to cut 15 per cent of the combined company's workforce, as it seeks to save $4 billion from the combined company's annual costs. The extra 19,500 job losses will be on top of the 13,000 jobs the company has cut over the last two years. Even without the deal, Pfizer chief executive Jeffery Kindler said that the firm was planning to shed another 8,000 jobs by 2012.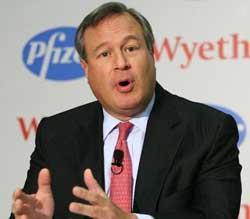 As details of the deal were announced, it emerged that the two companies have been in talks for months. Pfizer's desire to tighten the focus of its research efforts may have played a part in Wyeth's decision in December 2008 to concentrate its drug discovery efforts in just six therapeutic areas - oncology, central nervous system, vaccines, musculoskeletal, metabolism and inflammation.
Bank raid
The cash-and-stock deal will see Wyeth shareholders receive $50.18 per share and will be financed, in part, by loans from a consortium of banks amounting to $22.5 billion - a remarkable amount considering the current reluctance of banks to lend money. The consortium includes Goldman Sachs, JPMorgan Chase, Citigroup and Bank of America, all of which were in the queue for the US Government's $125 billion bail-out package.
Pfizer's shareholders will also pitch in to fund the deal - the company halved its quarterly dividend to just 16 cents a share compared to the last quarter.
According to Kindler, 'the combination of Pfizer and Wyeth provides a powerful opportunity to transform our industry. It will produce a distinct blend of diversification, flexibility, and scale... that positions the combined company for success.'
However, analysts and commentators have questioned whether making such a big company even bigger is the correct way to go. Derek Lowe, US medicinal chemist and Chemistry World's 'In the pipeline' columnist, has taken a dim view of the merger, saying that Pfizer doesn't have a great record of making acquisitions work. 'Pfizer's own labs certainly haven't done a good job producing compounds. Some of that has been sheer bad luck, but some of it may well have been the inertia that happens in a big organisation,' says Lowe.
'I think that the company's size also affects the sorts of products they advance,' he adds. 'A $200 million per year compound does them little or no good at all, whereas a smaller company would be delighted. You end up with fewer programs than you'd think a company of Pfizer's size would have.'
Matt Wilkinson