Consortium aims to tighten pharmaceutical supply chain security and avoid drug contamination scandals
An international consortium aiming to tighten security in the pharmaceutical supply chain and avoid contaminated ingredients finding their way into medicines had its European debut this month.
Formed in the wake of the adulterated heparin scandal that is estimated to have claimed 250 lives, the Rx-360 group plans to develop a global, consistent and - most importantly - auditable set of quality standards for the industry to reduce the risk of future contamination incidents. Such issues are not limited to just the heparin scandal, hundreds of fatalities have been linked to contaminated glycerine being used as a 'filler' or excipient in many pharmaceutical products.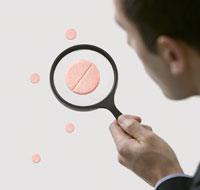 At present suppliers of active pharmaceutical ingredients (APIs) face numerous and routine inspections by regulatory agencies, drugmakers and third-party auditors. One large API supplier indicated it had hosted around 200 audits over the last year, each of which took two or three days to complete.
Yet despite these audits, the heparin and glycerine scandals show that the supply chain is not always as secure as it should be. Part of the problem is that the audit burden is also huge for the drugmakers. 'The vast majority of us simply don't have the resources to audit all our suppliers right now,' said Martin van Trieste, chair of the Rx-360 group and vice president of quality at US biotechnology company Amgen. His opinion was backed up by a poll of the audience using handheld devices, which found just 16 per cent were able to audit every one of their suppliers.
The central pillar of Rx-360's strategy to combat contamination is to share supplier audits so that they can be conducted more efficiently. By sharing the workload between the members of the consortium, the aim is to reduce the number of audits for each supplier. The lesser burden would allow each audit to be more thorough, for example by assessing the supplier's own supply chain security processes, rather than simply their adherence to Good Manufacturing Practices.
Rx-360 says that audits cost between $7000 and $10000 (?4200 to ?6000) each, but that the cost can be reduced to $800-$2000 by sharing audits. If 100 members share 50 audits, that represents a saving of $50m to $80m a year.
Having a database of audits will also allow intelligence sharing that will be of great value, said van Trieste. For example, if a supplier's capacity to make an ingredient does not tally with the orders it intends to fulfil among consortium members, it could be covertly sourcing material from other, un-audited, factories which may not make the compounds to a high enough level of purity.
Rx-360 is pushing hard to build up its members, and 89 per cent of the participants at the European event said they were certain, likely or considering joining the group.
The consortium's vice chair, Lynne Byers of GlaxoSmithKline, is adamant it must include a broad spectrum of pharmaceutical manufacturers, both branded and generic, as well as suppliers, distributors and brokers of ingredients from around the world. 'We need big industry uptake of this scheme so that it becomes more meaningful,' she said.
Phil Taylor