'Pharmerging' markets are set to dominate pharmaceutical sector growth over the coming years
So-called 'pharmerging' markets will contribute over half of the growth of the global pharmaceutical market this year, according to market analysts.
In 2006, the US contributed 52 per cent of the pharmaceutical sector's growth, while the seven emerging markets of Brazil, Russia, India, China, South Korea, Mexico and Turkey contributed just 16 per cent combined. This year, however, the 'pharmerging' economies are expected to account for 51 per cent of the industry's growth, while the US has plummeted dramatically to minus 19 per cent.
This early peek at the new pharmaceutical landscape - reshaped by patent expiries, dwindling pipelines and the global economic crisis - was revealed by market intelligence firm IMS Health, which this week presented its forecast for the pharmaceutical industry over the next five years.
The data place emerging markets front and centre in what it called a 'new world order' for the sector. IMS is 'confident' that growth in pharmerging markets will remain strong, and anticipates these markets doubling in size over the next five years.
'Our expectations are that at least four of the seven markets will grow in double digits over the next five years,' says David Campbell, the global lead for IMS's emerging markets platform. The Chinese and Korean markets are expected to perform particularly strongly, surpassing IMS growth predictions made late last year.
Tables turned
This enormous growth in emerging markets while more mature markets struggle is likely to have a significant impact on the global pharmaceutical leader board, IMS predicts.
Back in 2003, the top five pharma markets were relatively unsurprising: the US, Japan, Germany, France and Italy, with the UK coming in at sixth. China was ranked ninth, Brazil tenth and Turkey 18th.
'By 2013, IMS's prediction is that China will be the third largest pharmaceutical market globally, pushing Germany, France, Spain and Italy down the rankings,' says Campbell.
Brazil is expected to have worked its way up to eighth, above Canada and the UK, while Turkey will climb to 12th. Russia will also have broken into the top twenty, coming in at 16th by 2013, ahead of Poland, Australia and the Netherlands.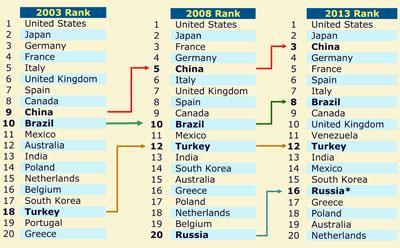 These changes in the sector are the result of a number of factors originating from both the established and emerging markets.
'As an industry, we've effectively always thought of [emerging markets] as second tier markets - once we've launched into a mature market then we'll think about what we'll do with the emerging markets,' suggests Campbell.
Between 1997 and 2008, 420 new chemical entities (NCEs) were launched by the pharma sector. Only one third of these reached the pharmerging markets, despite the fact these markets make up around 45 per cent of the world's population, 500 million of which can afford Western medicine - slightly more than the entire population of the EU.
'We've traditionally taken a business model from the mature markets and essentially tried to drop it into these emerging markets. And I think what we're seeing is that that doesn't work,' says Campbell.
Combined with this perhaps flawed business model is the fact that emerging economies are becoming more established and beefing up investment in the industry to drive growth.
The Chinese government, for example, earlier this year announced a $123 billion (?76.3 billion) healthcare reform plan to ensure medical provision for the country's population of 1.3 billion. The Indian government also announced plans to cement the country as one of the top biotechnology markets worldwide. Reforms in Turkey have transformed the country's pharma market, making it more stable and improving quality and transparency.
Alongside this, efforts to align quality, process and intellectual property (IP) procedures in emerging markets with more established markets have made them more attractive regions for investment, says Campbell. 'A lot of companies are starting to see these markets not just as a source of cheap chemists or cheap biologists, but a real source of innovation going forward as well,' he adds.
Growth in pharmerging markets this year is predicted in the range of 13-14 per cent, dwarfing efforts in the rest of world with the US predicted to shrink by up to 2 per cent and the top five European countries managing a combined growth of just 2 to 3 per cent.
Playing the long game
But while the economic crisis is a major concern today, it will eventually run its course. The pharma industry has always played to long game plans and this strategy remains of key importance in these changing times.
'The wonderful margins and cash flows that are enjoyed by companies today are the result of things that were done 10 or 15 years ago, they are not the result of things that have been done today,' says Robin Arnold, vice president of IMS's product and portfolio strategy.
Players in established pharmaceutical markets are already waking up to the opportunities and challenges presented by the burgeoning pharmerging markets, but Arnold warns that a more dramatic approach may be needed to safeguard their place in the pharmaceutical sector of the future.
'The big challenge for the leaders in pharma now is to be able to balance the various time horizons that exist in this industry,' he says. 'We've got to do different things.'
Anna Lewcock
Interesting? Spread the word using the 'tools' menu on the left.