Experts criticise study claiming vehicles are a minor source of particulate emissions
Research claiming that vehicles contribute tiny amounts to atmospheric particulate pollution in Beijing is causing the public to question government policy limiting car use, but attracting openly bitter criticism from experts.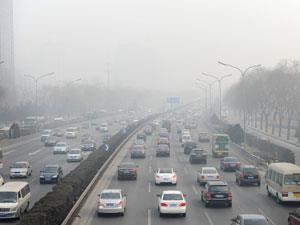 The research, published in Atmospheric Chemistry and Physics (ACP) last year by Zhang Renjian of the Institute of Atmospheric Physics (IAP) under the Chinese Academy of Sciences (CAS) and colleagues from several institutions, calculated four season data for fine pollutant PM2.5 (particulate matter less than 2.5µm in diameter) in Beijing, and concluded vehicle emissions account for less than 4 per cent of the total. This figure is much less than previous estimates by environmental protection agencies and mainstream scientists, which put vehicles' contributions at 20–30% of PM2.5 emissions.
News of the research was reported by the official Xinhua agency on 30 December 2013. It immediately attracted thousands of comments in Weibo.com, the Twitter-styled Chinese social media site, and other online forums. Many questioned the government's strict traffic controls, which were introduced to fight air pollution. One day per week, car owners are forbidden from driving in the capital. The Beijing government – and other local governments in China – uses lottery draws to control new car ownership. In January this year, 1.9 million Beijing residents are trying their luck for the quota of 16,000 new car ownership permits.
Aerosol arguments
In the ACP paper which the authors describe as 'the first systematic study on chemical characterisation and source apportionment of PM2.5 in Beijing', Zhang and co-workers determine that traffic and waste incineration emission put together only contribute to 4% of the pollutant. Soil dust contributes 15%; coal combustion 18%; biomass burning 12%; and industrial pollution 25%. The researchers also note that secondary inorganic aerosol, whose sources cannot be clearly defined, contributes 26% of PM2.5 emissions.
Amid wide public questioning of traffic control measures, the CAS convened an emergency news conference on 2 January, three days after the ACP research hit the headlines. He Hong, a senior scientist at the CAS Research Center for Eco-Environmental Sciences, and chief scientist for the CAS's fog control scheme, said at the event that Zhang's research was based on insufficient data and the method could lead to variable conclusions. Materials offered by the news conference suggested that vehicles' contribution to PM2.5 in Beijing vary between 10 and 50%.
Local media quoted an unidentified source from the CAS as saying that briefing materials on the ACP research have all been removed from the CAS and IAP websites.
Haze of confusion
However, the CAS responses and attempts to control information flow seem to have increased rather than reduced confusion. 'We do not know whether the 4% figure is accurate or not, but we know the data CAS used to dispute it vary from10 to 50%, indicating the CAS' conclusions are also inconclusive estimates,' columnist Gao Deqi wrote in the China Business Times. Gao claims that car ownership control is a power game, rather than a policy based on solid scientific evidence.
Zhuang Guoshun, director of the Center for Atmospheric Chemistry Study at Fudan University in Shanghai, angrily argues that the ACP research is baseless guesswork and misleads public and policymakers.
'The authors arbitrarily attribute certain components of PM2.5 to traffic and metropolitan incineration emissions simply because of some chemical similarity. The source apportionment and conclusions are not supported by scientific data and completely unreasonable,' Zhuang tells Chemistry World.
The government's lack of transparency and the reluctance to share environmental data make reasonable scientific discussion difficult and dampen the efforts to research other options
He adds that current methods cannot identify the sources of secondary aerosol, which may include industrial pollution, car emissions and other sources. Listing secondary aerosol as a source parallel to vehicle emissions or coal combustion is highly unscientific. 'Such results can only mislead the strategy against atmospheric pollution,' says Zhuang.
Shih-Chieh Hsu of the Research Center for Environmental Changes (RCEC) at the Academia Sinica in Taipei, who is the corresponding author of the ACP paper, however, refutes allegations that the method is invalid. 'Listing secondary aerosol as a separate source of PM2.5 (or PM10) is normal and common, not only across the world but also in China,' Hsu told Chemistry World in a written response.
He adds that the decreased PM2.5 contribution from vehicle emissions is accompanied by other factors, such as improving exhaust pollutant removal techniques despite the rising numbers.
Commenting on the bitter debates, Ye Chunhui, an environmental economist at Zhejiang University, Hangzhou, says that it is natural for scientists to disagree with each other. More approaches to testing PM2.5 sources should be adopted to offer evidence to support policies, he adds.
The government's lack of transparency and the reluctance to share environmental data make reasonable scientific discussion difficult and dampen the efforts to research other options, Ye tells Chemistry World.