Ammonium nitrate explosion that killed at least 135 appears to have been caused by poorly-stored cargo from an abandoned vessel
The explosion that killed at least 135 people and injured over 5000 others in Beirut, Lebanon, on 4 August seems to have originated from an ammonium nitrate cargo stranded since 2013. Lebanese President Michel Aoun said around 2700 tonnes of ammonium nitrate stored unsafely in a warehouse caused the explosion. The country has declared a two-week state of emergency in response. The enormous explosion demolished large areas of the city and has left hundreds of thousands homeless.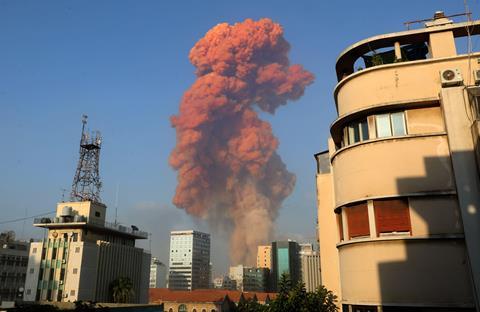 Robin Taleb is a chemist at the Lebanese American University's Byblos campus, 35km north of Beirut. He heard the explosion even at that distance. He spoke to Chemistry World as he drove to Beirut to help the recovery effort, planning to assemble with others near a partially functional power station. 'We'll see how many people we are and organise ourselves into groups,' Taleb explains. 'Then every group will go into a particular house to see if they need help to clean up, and get them food.'
Taleb has been using his chemistry knowledge to help explain what's happened on his Facebook and Instagram accounts. 'I was trying to explain exactly what a shockwave is, what's the difference between a nuclear weapon versus a chemical weapon, and so on,' Taleb says. Yet he struggles to believe there were actually 2700 tonnes of ammonium nitrate, used both as a fertiliser and an explosive, in storage. His initial suspicion is that the explanation is a cover up for a military operation, highlighting the ammonium nitrate's value, which would be several hundred thousand pounds. 'And nobody wants to claim it?' he asks.
The idea that such a quantity would have been left unattended for six years beggars belief

Andrea Sella, UCL
However, evidence from the shipping industry supports the Lebanese government's explanation. In October 2015, ShipArrested.com reported that in 2013, the Rhosus had been sailing from Georgia to Mozambique with a cargo of 2750 tonnes of ammonium nitrate. Experiencing problems, it entered Beirut port and was forbidden from sailing. Acting on behalf of creditors, the law firm Baroudi & Associates obtained arrest warrants against the vessel.
'Efforts to get in touch with the owners, charterers and cargo owners to obtain payment failed,' the solicitors wrote. They appear to have kept the cargo on behalf of the creditors. 'Owing to the risks associated with retaining the ammonium nitrate on board the vessel, the port authorities discharged the cargo onto the port's warehouses.'
An accident waiting to happen
'Finding the owners of the cargo can be tricky,' adds David Lockwood, director of operations at UK-based Merlin Global Maritime, who has no connection to the Rhosus. He notes that data on the shipping information system Equasis back up the account of the ship's problems in 2013. 'Reading between the lines, the ship was en route to Mombasa to discharge her cargo, and then on to scrapping in India, stopped for fuel at Beirut, and was found unseaworthy so the cargo was transhipped ashore,' Lockwood says. The Rhosus wouldn't have been allowed through the Suez canal in its condition, meaning that it would have had to sail around the west and south coasts of Africa, Lockwood adds. Facing the extra costs, the cargo owners may have decided to leave the ammonium nitrate in Beirut until they found an alternative solution.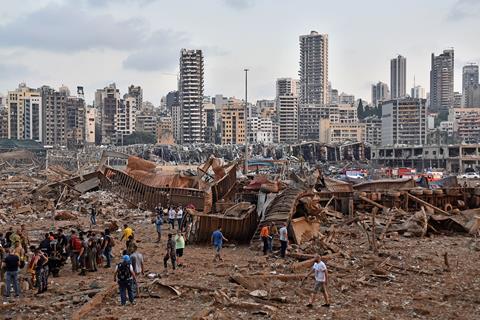 Alex Djerdjev from the University of Sydney, Australia, explains that there are strict regulations for storing ammonium nitrate, including, ventilation, automatic sprinkler systems and stacking. That seeks to mitigate the inherent chemical risk of the substance, which combines a strongly oxidising nitrate ion with an ammonium ion fuel element.
While even small quantities of contaminants can act as a catalyst to initiate reactions that lead to an explosion, Djerdjev thinks that this is unlikely to be the cause, based on news coverage. Instead he points to reports of an accidental fire, which would have got quickly out of control without proper precautions. 'Such a large stockpile of ammonium nitrate should not be stored so close to residential areas,' he says.
'This is a catastrophic regulatory failure because regulations on the storage of ammonium nitrate are typically very clear,' comments Andrea Sella from University College London, UK. 'The idea that such a quantity would have been left unattended for six years beggars belief and was an accident waiting to happen.'
Unfortunately, despite attempts to improve regulatory ovrsigeht, large ammonium nitrate explosions happen with distressing regularity. The most recent example in Tianjin, China, in 2015, involved 800 tonnes of ammonium nitrate, with 173 fatalities. There are also parallels with the 2013 West Fertilizer explosion near Waco, US. The most deadly of another dozen incidents dating back a century involved 450 tonnes of ammonium nitrate in Oppau, Germany, and killed 561 people.
The explosion comes at an especially sensitive time for Lebanon. Beyond the Covid-19 pandemic, the country was already dealing with economic and political turmoil. Nevertheless Taleb notes that his compatriots will be determined to work together to deal with the ensuing damage and injuries. 'This is a country where anytime something happens we help each other out.'