Legislation that has been rushed through parliament could see the US-owned university closed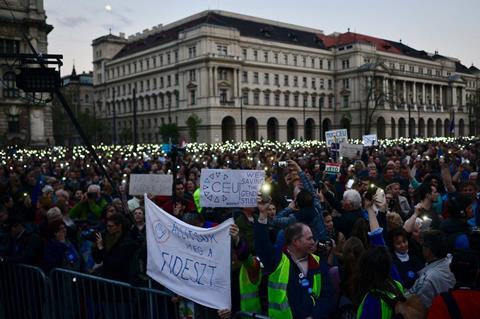 The European Commission has announced that it will conduct a 'legal assessment' of a new higher education law approved by the Hungarian parliament that most observers feel was strategically designed to close down the Budapest-based Central European University (CEU).
Passage of the law on 4 April has triggered major protest demonstrations in Budapest and attracted criticism from academics all over the world. The European University Association said that universities across Europe 'express their deep concern and shock' at the Hungarian law, adding that it 'demonstrates a complete lack of respect for university autonomy and academic freedom'.
CEU was founded in 1991 after the collapse of the USSR-led East Bloc by Hungarian-American philanthropist and financier George Soros to promote the values of an open society and democracy. The English-speaking university, which offers master's and doctoral degrees in social sciences, humanities, law, public policy, business management, environmental science and mathematics, is endowed with $880 million (£702 million).
The new law, which was rushed through Hungary's parliament, mandates that foreign universities operating in Hungary have a campus in their home country. CEU is registered in the US state of New York, but does not have a campus there. The new law also requires a bilateral agreement between the Hungarian government and the university's home country, whereas the current CEU agreement is between New York state and Budapest. The changes come amid right-wing Prime Minister Viktor Orban's repeated accusations that Soros is trying to influence Hungarian politics through non-governmental organisations.
'Seeing this institution disappear would constitute a serious blow to academic freedom and scientific development'

Martin Stratmann, president of the Max Planck Society
European Commission vice president Frans Timmermans, speaking after the Hungarian law was discussed at a meeting of the College of Commissioners on 12 April, said developments are 'troubling many people in Europe's academic community, as well as politicians'. He said commissioners would complete a thorough legal assessment of the new law by the end of April to determine its 'compatibility with free movement of services and the freedom of establishment'.
CEU described the legislation as 'a premeditated political attack on a free institution that has been a proud part of Hungarian life for a quarter of a century'. Michael Ignatieff, president of CEU, said the Hungarian government enacted the law without contacting the university: 'We had no advance warning, no discussion, no bilateral exchanges.'
Electrochemist Martin Stratmann, president of the Max Planck Society, wrote a letter to Orban saying that science requires 'internationality, openness and the free exchange of ideas and knowledge'. Noting that CEU is 'internationally renowned and respected academic institution', he adds: 'Seeing this institution disappear would constitute a serious blow to academic freedom and scientific development and, at the same time, to the prospects for social and economic well-being in your country and in the European Research Area as a whole.'