Sanofi-Aventis makes a hostile $18.5 billion takeover bid for US biotech, Genzyme
Sanofi-Aventis has taken its $69-per-share (?44-per-share) bid to the Genzyme shareholders, signalling its intent to acquire the US biotech with or without the support of its board. In response, Genzyme has advised shareholders to hold fast.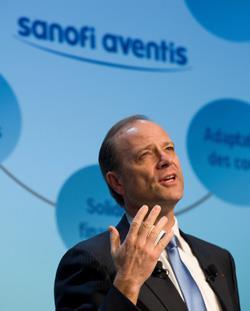 The Sanofi offer, which values Genzyme at $18.5 billion, was revealed in August, although it had been put to Genzyme a month earlier. The Sanofi decision to go public was aimed at building pressure by gaining shareholder support. But the 'opportunistic proposal', was dismissed by Genzyme chief executive Henri Termeer. He said at the time that it undervalued the company by failing to recognise the ongoing manufacturing improvements or the pipeline potential.
Sanofi says that it met recently with shareholders representing more than 50 per cent of the Genzyme share total, who were 'frustrated with Genzyme's persistent refusal to have meaningful discussions'. Sanofi chief executive Christopher Viehbacher said: 'Sanofi-Aventis is committed to a transaction with Genzyme, and we believe that our offer reflects both Genzyme's upside potential and its current operational challenges'.
In a conference call, Viehbacher said that Sanofi had no non-public information about the ongoing Genzyme manufacturing problems. In June 2009, Genzyme was forced to temporarily halt production at its Alston Landing site in Massachusetts, US, due to a viral infection. In May, the company said shipments were meeting 50 per cent of the demand for Cerezyme (imiglucerase), for the treatment of Gaucher disease, and 30 per cent for Fabrazyme (agalsidase beta), for the treatment of Fabry disease.
But despite these setbacks, Genzyme remains attractive owing to its pipeline of biologics, while Sanofi is looking to compensate for the expiry of patents for key drugs, such as Plavix (clopidogrel) - for the prevention of stoke and heart attack - and cancer drug Taxotere (docetaxel).
Last month, Sanofi-Aventis and Covance, a US contract research company, signed a deal committing the French drug giant to Covance services worth up to $2.2 billion over the next 10 years.
Andrew Turley