Conflict underlines the need for international efforts to strengthen collaboration between scientists in the region.
Damage to the scientific infrastructures of Israel and Lebanon will be evident long after the fragile ceasefire between Israel and Hezbollah, which came into effect on 14 August.
The conflict underlines the need for international efforts to strengthen collaboration between scientists in the region. 'Peaceful interaction among scientists of the nations in that part of the world will be even more important,' said John Malin, chair of the International Union of Pure and Applied Chemistry's (Iupac) international development committee, Chemical Research Applied to World Needs (Chemrawn).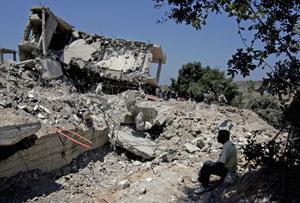 'Of course the scientific community is only one small component of a nation, but we feel that it's even more important than before to maintain good relations between these communities,' Malin told Chemistry World.
In November 2005, Iupac co-sponsored a conference called Frontiers in Chemical Sciences II: Research and Education in the Middle East, along with the Royal Society of Chemistry, American Chemical Society, and German Chemical Society (GDCh). The meeting, also known as Malta II, was held on neutral ground in Valetta, Malta, and linked scientists from countries in the Middle East and beyond to discuss shared challenges.
Delegates at the meeting agreed that a Malta III should be held in 2007. But that was before the recent Israel-Hezbollah conflict. 'The difficulties in the Middle East will probably show that we need the conference even more,' said Malin.
Counting the cost
Meanwhile, chemists working in the region are just starting to count the cost of the hostilities, which has killed more than a thousand people and displaced over a million from their homes.
'It is a devastating situation for us and our students,' said Lara Halaoui, associate professor of chemistry at the American University of Beirut (AUB), Lebanon. 'The effect of this on my own research activity is going to be beyond the period of interruption, but we don't know how long this will be because some students had to leave in a rush without being able to organise their work for a smooth continuation of the research,' Halaoui told Chemistry World.
The laboratories in her department were closed on 12 July after it became too dangerous for researchers to get to work. Many were forced to flee the city, or in some cases leave the country.
'The research work of years by some students, some funded by the American Chemical Society's Petroleum Research Fund, has been left unfinished,' said Halaoui. 'Research work and productivity is currently totally frozen,' added Rabih Sultan, acting chair of the chemistry department.
Heavy price
In Israel, students at the Technion-Israel Institute of Technology in Haifa are being taught by online tutors. Classes ended in July, but final exams were interrupted by the crisis, according to Ishi Talmon, professor of chemical engineering at the Technion. Exams are now scheduled for September.
Interviewed by Chemistry World just days before the ceasefire was announced, Aaron Ciechanover, winner of the 2004 Nobel prize in chemistry and professor at Technion's Ruth and Bruce Rappaport faculty of medicine, described how daily missile attacks forced faculty members to seek refuge in a protected shelter in the building.
'Haifa, and in particular the medical school area, are targeted all the time and there were many hits in the immediate vicinity,' he said. 'Working is truly difficult.'
'Our main teaching hospital is also involved in treating most of the wounded from the north, soldiers and civilians alike,' Ciechanover added. 'The helicopters that evacuate the wounded are landing non-stop in the heliport, just underneath the faculty. It reminds us of the heavy price we all pay.'
Bea Perks