Rising funding for universities may be fuelling corruption, while top bosses' fiefdoms makes them hard to catch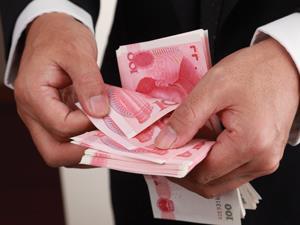 Dozens of university officials and leading scientists in China have been arrested or imprisoned as part of the new government's drive to stamp out corruption.
Most recently, Song Maoqiang, former dean of the school of computer science and technology at Beijing University of Posts and Telecommunications, was sentenced to 10 and a half years' in prison in June by a Beijing court for embezzling Yuan680,000 (£64,000) of research funds. Such long sentences are not unusual. In January, Chen Yingxu, a chemistry professor at Zhejiang University and director of the university's Institute of Environmental Science and Technology, was also given 10 years for embezzling Yuan9.45 million.
Song and Chen are not alone. Leaders of a number of other science institutions, including Shen Weichen, head of the China Association for Science and Technology, and vicepresidents of the prestigious Sichuan, Zhejiang and Southern Medical universities have also been put under house arrest as part of an anti-corruption campaign by the Chinese Communist Party (CCP)'s disciplinary commissions. Since new Chinese leadership took power in 2013, at least 10 university presidents or vice presidents have been arrested or investigated for corruption. These investigations usually lead to charges and prison sentences.
'Not unexpected'
'The removal of so many top university officials and leading scientists is not unexpected,' says Peng Jian, director of Beijing Huahuan law firm, which has been involved in investigations into breaches of research ethics. He adds that many Chinese universities control vast research budgets and other valuable assets such as campus real estate development rights, which can be at the centre of corrupt deals. Most of the cases involving university officials centre on campus building projects and equipment purchases. The only exception is Chu Jian, a leading expert in industrial control and former vice president of Zhejiang University, who was accused of embezzling state-owned assets belonging to a company formerly affiliated with the university.
University presidents are ranked as senior leaders, and investigating them requires courage
According to Peng, the ongoing 'purge' of university leaders is not a result of new laws or more rigorous audits, but is part of a renewed drive by the government to weed out corruption among China's bureaucrats. 'University presidents are ranked as senior leaders, and investigating them requires both courage on the part of prosecutors, and backing from higher levels within the CCP's disciplinary commissions,' he explains.
To Gu Haibing, an economics professor at Renming University of China (RUC), who is well known for his criticism of Chinese research institutions, the immense power and status given to university presidents has helped breed corruption. 'They have resources, they have senior political status, and unlike local officials, they have nearly independent and unchecked domains to enforce their powers,' he says. RUC's own director for college enrollment, Cai Rongsheng, is currently being investigated for allegedly taking bribes of more than Yuan12 million from parents of prospective students.
Deteriorating situation?
The recent arrests suggest that corruption within universities may be getting worse as budgets for education and research rise. Last year the top 10 Chinese universities received a total of Yuan26.8 billion for research, according to the education ministry. Both Song and Chen were project leaders of the nation's key science and technology schemes, launched in 2009 with planned investments of up to Yuan600 billion by 2020.
It is unclear whether more preventative measures can be put in place to stop large budgets being misused or embezzled in the first place. Luo Zhitian, a history professor at Sichuan University, argues that stricter rules on the management of budgets are unnecessary because China already has very detailed regulations on how to spend research money, and every item of expenditure must be supported by official receipts.
These regulations haven't been able to stop corrupt individuals using false companies to divert research money into their own pockets, so Luo suggests a different approach. The government should encourage researchers to check that their peers aren't misusing university money, he says, rather than impose more rigid regulations.