Agilent has updated over 40 per cent of its high pressure liquid chromatography and mass spectrometry ranges.
Self-styled measurement company Agilent Technologies has updated over 40 per cent of its high pressure liquid chromatography and mass spectrometry ranges, and introduced software that can be used on competitor's machines.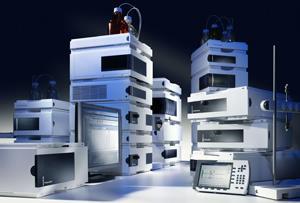 The 1200 HPLC system is an update on the company's 1100 range of analytical instruments, used in pharmaceuticals companies and other research labs for analysing organic molecules, drug compounds and biomolecules.
Product manager Helmut Schulenberg-Schell said Agilent's latest equipment can test samples up to 27 times faster than before. The modular systems make it simple, he claims. 'This is not for an ivory tower R&D chemist,' said Schulenberg, 'it can really be used.' The 1200 series takes advantage of lab-on-a-chip technology, with five different systems integrating capillaries, nano-sized separating columns and ionisation sources in self-contained chips, to avoid instrument contamination.
Frank David, visiting professor at Ghent University, Belgium, has been testing the equipment. 'In the few weeks we've been using the system we've seen we can shift the borders of classical liquid chromatography,' he said. David used a 5 cm separating column, as opposed to a standard 25 cm column, to analyse explosives. He said he got accurate data three times faster than before.
Alongside the HPLC system, Agilent has launched its 6000 LC/MS series, marking a major assault on the mass spectrometry market. The company aims to double its market share to hold 70 per cent of the $1.3 billion market, said Taia Ergueta, general manager of Agilent's LC/MS business. Ergueta admitted this was ambitious in a market with several strong competitors. 'We don't underestimate them,' she said.
Competitors will also be taking note of Agilent's accompanying software, OpenLAB, developed for ease of use on all makes of HPLC and LC/MS machines. Agilent will offer the software in exchange for competitors' control codes.
There's no way round it, said 1200 product manager Schulenberg. 'Everyone in the industry is reacting to the fact that we all share customers,' he said.
Katharine Sanderson