Discovery of hidden thread in silk of deadly spider inspires material-toughening strategy
Scientists have discovered microscopic metastructures in the web of the recluse spider that offer a blueprint for tough new materials.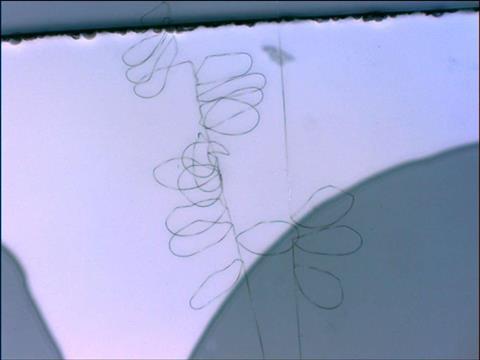 At first glance, the venomous yet timid Chilean recluse spider (Loxosceles laeta) seems to be highly disorganised in constructing its web. Traversing its lair, it deposits clumpy bales of silk in a messy, tangled cobweb. Look closer. Work led by Hannes Schniepp at the College of William and Mary, in Virginia, US, in collaboration with Fritz Vollrath at the University of Oxford, UK, has shown that the spider carefully choreographs its spinnerets to sew silk in thousands of micrometre-sized loops. When strained, the loops sequentially open to reveal hidden length in the thread, dissipating energy and staving off breakage.
This toughening strategy depends on the material's morphology, explains Schniepp. The recluse spider's silk thread is ribbon-shaped, allowing high strand-to-strand contact and strength at the loop joints – each withstands substantial stress before opening. The ribbon is also flexible, owing to its thinness, which avoids concentration of stress on the fibre as it opens.
After unravelling the spider's strategy, and with the help of a mathematical model, Schniepp's team was inspired to build its own ribbon-loop-toughened metamaterial, at the macroscale. 'We had some adhesive tape in our draw, so we simply formed one loop in it and immediately saw a 30% enhancement in the material's toughness,' says Schniepp. He explains that more loops lead to greater gains. The team's model predicts that, by adding enough loops, some types of fibre would become 1000% tougher. 'Just by adding these loops, you're really changing the characteristics of the material, transcending its properties.'
This has wide-reaching implications. Spider silk, already five times stronger by weight than steel, becomes tougher when looped. Giving another example, Schniepp explains that intrinsically strong yet brittle carbon fibre would become pseudo-ductile and less prone to catastrophic failure if looped. Vladimir Tsukruk, an expert in biomaterials at the Georgia Institute of Technology, US, takes further inspiration from the spider's strategy: 'The level of toughness achieved is spectacular, but more important is the ability to stretch the fibre structure to a great extent without breaking it [by unravelling the hidden length]. Such extreme stretchability, can play a significant role in fabricating new, lightweight biomaterials for wearable devices or protection.'
Schniepp admits that these potential applications might be difficult to realise, owing to challenges in forming, manipulating and bonding ribbon fibres. However, the team hopes that their discovery will point the way to a new generation of tough metamaterials, all with a common thread: the silk of a deadly but inspirational spider.
References
This article is free to access until 29 March 2017
SR Koebley, F Vollrath and HC Schniepp, Mater. Horiz., 2017, DOI: 10.1039/c6mh00473c