Industry may need less hazard data to register chemicals under the regime
The chemical industry has welcomed a government proposal that would require it to submit less hazard information than originally feared to register substances under the UK regulatory regime for chemicals.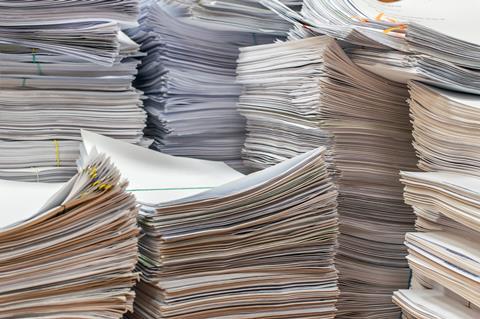 Following the UK's withdrawal from the EU, the Department for Environment, Food and Rural Affairs (Defra) is establishing a stand-alone system for how companies will register chemicals, manufactured or imported into Great Britain, under UK Reach (registration, evaluation, authorisation and restriction of chemicals). EU Reach continues to apply in Northern Ireland.
The UK has transferred existing chemical registrations into its independent Reach regime since exiting the EU in 2021. But these 'grandfathered' registrations still lack full datasets. In the summer, Defra agreed to a three-year extension to the deadlines by which these must be submitted. They are now October 2026, 2028 and 2030, depending on volume and hazard profile.
Industry has lobbied intensely against a system that would require it to buy or replicate full data packages already submitted under EU Reach. A Defra impact assessment suggested this would cost industry £1.3–3.5 billion.
In a 9 November statement, Defra said its experience with UK Reach so far has shown that regulators 'do not need to hold a complete replica of all the registration data on all chemical substances held under EU Reach in order for UK Reach to undertake its regulatory work'.
Instead, Defra will require 'the essential minimum' of hazard information for transitional chemical registrations and intermediates. If it needs further data, this will be required 'in a targeted way', in response to new or emerging risks, or for chemicals of higher concern, the department said. Under the department's proposal, UK Reach registrants will not generally need to access and pay for data packages held by EU industry consortia, Defra said.
Defra has yet to develop its policy in detail and said it expects to publicly consult on a fleshed out plan in 2024.
Burden decreased?
The chemical industry met the proposal with relief. Steve Elliott, chief executive of the Chemical Industries Association, said it could not only drastically lower the anticipated cost of duplicating the work UK companies have already done for EU Reach, 'but also strengthen health and environmental protection and outcomes, through more targeted regulation and focused resource'.
The Chemical Business Association (CBA) called the announcement 'what we have been campaigning for since December 2021'.
'The chemical industry touches all facets of our everyday lives, so the implications of UK Reach are not just the implementation costs […] but also the impact on the ability of business as a whole to be competitive in a global market,' said CBA chief executive, Tim Doggett. 'We look forward to hearing from government about the fuller details of the policy in early 2024, as we continue to collaborate with our partners.' Doggett said.
But UK charity Chem Trust said reducing the amount of hazard information companies are obliged to give will increase the burden on the regulator to chase information it needs to ban or control harmful substances.
'This is very concerning as it is already too slow to keep pace with chemical threats and deal with the increase in chemical pollution in the environment,' said Chem Trust policy advisor, Chloe Alexander.
'This statement confirms our long held view that the UK Reach model will continue to be a poor relation to EU Reach. The publication of fuller policy details in the new year provides an opportunity for the government to demonstrate how it will achieve its ambition of upholding high levels of protection,' Alexander said.