UK authorities press forward in long running debate over two drugs from the Genentech
The UK is moving closer to opening up the National Health Service (NHS) to cancer drug Avastin (bevacizumab) for the treatment of eye conditions, such as age-related macular degeneration (AMD).
On 6 December 2010, the National Institute for Health and Clinical Excellence (Nice) published a report in which it concluded there is support for an appraisal of the drug for eye conditions. Nice is now waiting for the Department of Health to refer it officially to Nice for consideration as part of its technology appraisal programme.
The step will be a blow to the companies involved in this long running debate. Avastin is a humanised monoclonal antibody developed by Genentech, now a subsidiary of Roche, approved for the treatment of several types of cancer. It targets vascular endothelial growth factor A, which stimulates the growth of blood vessels and is involved in the wet form of AMD. But Genentech did not pursue it commercially for the treatment of eye conditions. Instead, it developed Lucentis (ranibizumab) from a fragment of the antibody, which it licensed to Novartis in all regions expect the US. Lucentis was granted EU marketing approval for the treatment of eye conditions in 2007.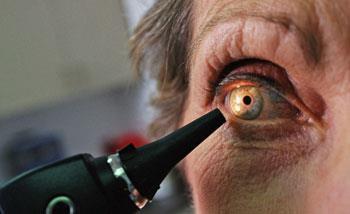 Doctors have continued using Avastin for eye conditions - Avastin costs ?50 per injection compared with over ?700 for Lucentis. Nice, which assesses drugs in terms of their efficacy and cost, does not normally look at those without marketing approval.
Avastin and Lucentis are very similar in terms of efficacy, says Ian Grierson, head of the ophthalmology research unit at the University of Liverpool, UK. Furthermore, they are extremely important in the clinic. 'Without these drugs, there aren't a lot of treatment options,' he adds.

Two drugs from the same source
According to the Nice report, Roche representatives said the decisions was made based on 'corporate considerations'. Furthermore, they said the company had no plans to apply for AMD authorisation for Avastin. Grierson says that Lucentis was probably developed for 'very sensible but theoretical' reasons. 'There was concern at the time that Avastin might trigger an immune response because of its size,' says Grierson - Avastin is 150kDa, compared with 50kDa for Lucentis. The immune system can be suppressed with other drugs, but the risk this adds might outweigh the benefits of treatment for patients with eye conditions, compared with patients with life-threatening cancer. But it seems that, in the low concentrations needed for the eye, Avastin does not cause immune problems, he says.
Assessing the safety of Avastin for the treatment of eye conditions remains a concern for some. Grierson says much of the data is anecdotal. Indeed, a review published in October 2010 concluded that 'studies [of Avastin for the treatment of AMD] show too many methodological limitations to rule out any major safety concerns'.1
The Royal College of Ophthalmologists says it is 'encouraged' that the Nice report 'emphasised the importance of looking at the safety and quality of bevacizumab in addition to cost considerations'. It added: 'While immediate appraisal could not be recommended due to lack of safety data, it is hoped that using relevant expertise, for example through a regulatory body, will allow future appraisal by Nice of bevacizumab for treating eye conditions. Until then, the use of an unlicensed drug cannot be recommended by the College when a licensed alternative is available.'
The Royal National Institute of Blind People, which receives funding from Novartis, said in response that a safety review was needed before starting an appraisal of cost-effectiveness. 'To run these in parallel risks a waste of resources should the drug not meet the safety criteria,' said head of campaigns and policy Steve Winyard.
Avastin is a blockbuster drug for Genentech and Roche, generating in 2009 sales of CHF6.6 billion (?4.4 billion), 16 per cent of total Roche sales. But recently it has struggled with safety concerns, in particular links to cardiovascular problems. In a recently published meta-analysis of articles published between 1966 and 2010, researchers found that patients with breast cancer that took Avastin were almost five times more likely to be affected by heart failure.2 In December 2010, the US revoked its fast track marketing authorisation for breast cancer, granted in 2008. Meanwhile, Lucentis made 2009 sales of $1.2 billion (?800 million) for Novartis, up 39 per cent compared with the year before.
Andrew Turley

References
1. C Schmucker et al., Br J Ophthalmol, 2010, DOI: 10.1136/bjo.2009.178574

2. T K Choueiri et al., J Clin Oncol, 2011, DOI: 10.1200/JCO.2010.31.9129