Cancer diagnosis could be accelerated using an approach that is low cost, rapid and non-invasive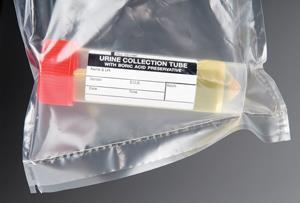 Lung cancer could be identified earlier, thanks to a new test that uses surface enhanced Raman spectroscopy (SERS) to detect a cancer biomarker in urine.
Detecting lung cancer is difficult as it is hidden in the body, and current clinical methods are not effective at an early stage; the one-year survival rate after diagnosis in the UK is just 29–33%. Acetyl amantadine (AcAm) is recognised as an exogeneous cancer biomarker because it is the product of a metabolic process known to be significantly up-regulated in cancerous cells. After ingestion, the antiparkinson and antiviral drug amantadine is acetylated in the body by the enzyme spermidine/spermine N1 acetyltransferase to give AcAm, which can be detected in patient urine. However, techniques previously used to quantify AcAm in urine, such as liquid chromatography-mass spectrometry (LC-MS), are undesirable for clinical adoption due to high costs and long run times.
Now, Reuven Gordon and co-workers at the University of Victoria, Canada, have overcome these limitations to achieve an AcAm detection limit of 1ng/ml using SERS and without needing to purify the urine. They functionalised a commercially available Raman substrate with the hydrophobic surface capture agent ß-cyclodextrin to extract AcAm from artificial urine before analysis by Raman spectroscopy.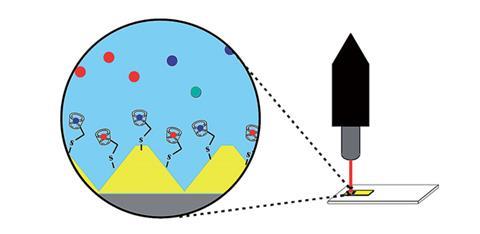 'I am very excited about this work because translating research results into the clinical setting is extremely rare,' says Gordon. 'The biggest impact will be in saving lives by detecting cancer earlier; early detection dramatically improves survival rates.'
The advantages for practical application are highlighted by Daniel Sitar, a clinical pharmacology expert at the University of Manitoba, Canada: 'This detection strategy is more economical than the currently used LC-MS approach, and enables development of an easy-to-use point-of-care tool that should provide a more rapid turnaround to the health care provider.'
'One of the challenges facing the field of SERS, is how to move the technology from laboratories to real-world diagnostics,' comments Sang-Hyun Oh, a biomedical researcher at the University of Minnesota, US. 'Challenges still remain, especially interference from other molecules, before applying this method to real urinalysis, but I think this is a promising step.'
Gordon agrees – the method did suffer from a decreased limit of detection in the presence of steroids – and adds that in addition to comparing their approach to existing methods, the next step will be to use real samples, when interference will be even more problematic.
References
This article is free to access until 15 October. Download it here: