A spate of toxic gas leaks from US refineries is causing concern the recession may be putting lives at risk
A sudden release of propane and highly toxic hydrogen fluoride (HF) gas from an ExxonMobil refinery in Joliet, Illinois led to two employees being rushed to hospital last week. The US Chemical Safety Board (CSB), which sent a team of four investigators to the refinery, says this is the third US plant incident involving an HF release in the last five months.
ExxonMobil said that the incident on 6 August was a propane leak containing 'trace amounts' of HF, and that the onsite safety mitigation process went to plan. Both ExxonMobil and the CSB have confirmed that there was no offsite impact. One of the hospitalised employees was released and has returned to work. ExxonMobil says the other remains in hospital, with 'non life threatening' injuries. Immediate plant repairs meant that there was no impact to production at the site. The plant is one of ExxonMobil's six refineries that uses the HF process to make high-octane fuels, four of which are in the US, one in Canada and one in Europe.
CSB chairman John Bresland said: 'We are concerned about the three apparent releases of hydrogen fluoride from refinery alkylation units in Pennsylvania, Texas and now Illinois that have been reported since March 2009.' CSB on-site investigator Robert Hall told Chemistry World that although his team was still at the data gathering stage, 'We will be looking for commonalities between the three incidents as we move forward in the investigation.'
The CSB is also investigating a more significant release and alkylation unit fire in July that injured one employee at the Citgo Refinery in Corpus Christi, Texas - a location with the highest concentration of US oil refineries using HF. Citgo declined to give details until three ongoing investigations into the fire are complete but said there was 'no threat to the community' from the incident. However, Hall confirmed that some HF was released from the site, but fortunately for Corpus Christi residents this was carried away from homes and over nearby water.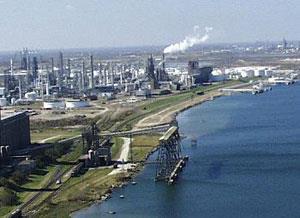 The third incident, at the Sunoco refinery in Philadelphia in March, is not currently part of a CSB enquiry. According to Hall, the alkylation units in the ExxonMobil and Citgo incidents used slightly different technology, and were supplied by different manufacturers.
Recessionary pressure?
Although making a direct correlation between safety spending and accidents is difficult, in December Bresland warned in a podcast of the pressure to trim operating expenses, including necessary repairs or operator positions, due to the economic downturn. Cutbacks in the 1990s were factors in a number of fatal and costly US refinery accidents. 'My message for oil and chemical companies is clear,' says Bresland. 'Even during an economic downturn, spending for needed safety measures must be maintained.'
HF and sulphuric acid are the two main isobutane alkylation catalysts used in industry to produce high-octane petroleum. There is an ongoing industry dialogue about which is safest; other solid-state catalysts, such as zeolites, are in development, but these are currently only at the pilot plant stage.
HF is a strong irritant, which can is deadly in large amounts. In contact with moisture it forms hydrofluoric acid, an extremely corrosive liquid and contact poison that rapidly penetrates tissues and can cause systemic toxicity - damaging the heart and lungs and causing death.
As an alkylation catalyst, far less HF is required than sulphuric acid. HF catalysed plants process a wider range of feedstock mix, and give higher octane products than sulphuric acid plants. However, HF is produced at very few locations and transportation must be rigorously managed.
Hall says he expects to release an interim statement on the Cigo fire within a month, but that full reports on the incidents may take a year.
Helen Carmichael
Enjoy this story? Spread the word using the 'tools' menu on the left.