The US environmental protection agency (EPA) proposes to outlaw agricultural use of the pesticides lindane and carbofuran, following 10 years of scrutiny.
The EPA's lengthy review, ordered by the Food Quality Protection Act (FQPA), included reregistering existing pesticides and products that rely on the use of pesticides. The review covered 1100 of the 1105 pesticides used in the US, and will see the cancellation of nearly 4 400 of 17 592 uses of pesticides. The pesticides lindane and carbofuran will be banned, and the current legal residue limits for carbofuran on food reduced to zero.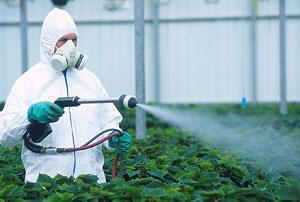 'Americans today can be confident that pesticides used in this country continue to meet the highest health and safety standards in the world,' an EPA statement said. But US anti-pesticide network, Panna (pesticide action network North America), while welcoming the agricultural ban of lindane, said the steps fall short of their expectations. Kristin Schafer, Panna's program coordinator, pointed out that lindane is still approved for use in lice and scabies treatments, although it is banned in California. Panna has called for a US-wide ban on lindane use in pharmaceutical products.
Lindane comprises the gamma? isomer of hexachlorocyclohexane, a suspected carcinogen. It is used as a seed treatment on six crops. It is known to kill insects by ingestion and inhalation and it is already banned in 52 countries. It is banned for certain uses in the UK. Carbofuran, a carbamate insecticide, is a threat to birds, and has been blamed for the deaths of hundreds of bald eagles, owls, kestrels and other species.
Jay Vroom, president of CropLife America (CLA), the US plant science industry's trade association, accused EPA of allowing 'political pressures' to shape their decisions during the review. 'We urge EPA to apply transparency and good science policy to allow statutory standards to be clearly applied to pesticide regulations,' said Vroom. CLA did, however, say that the 10 year process undertaken by EPA deserved recognition. 'As a result of FQPA and the contributions of EPA, the food chain and the crop protection industry, Americans continue to reap benefits from a more rigid regulatory program and to enjoy the safest food supply in the world,' a CLA statement said.
American Bird Conservancy (ABC), an organisation that works to conserve native birds and their habitats throughout the Americas applauded EPA's decision to ban carbofuran. George Fenwick, ABC president said, 'Carbofuran's toxicity to wildlife made it one of America's most harmful licensed products, and we are delighted that EPA has done the right thing. This is a victory for science and the environment.'
Katharine Sanderson