Bayer boss Marijn Dekkers aims to increase impact of good R&D across different internal units
Bayer is looking to 'modestly' increase its R&D budget next year – it was €3 billion (£2.4 billion) for 2012 – and place new emphasis on transferring ideas between research areas within the company, according to chief executive Marijn Dekkers. Bayer has kept its annual R&D budget at about €3 billion since 2010.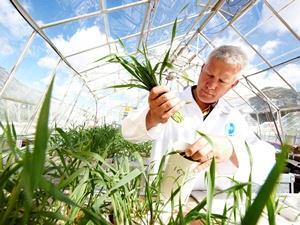 Speaking at a press event in Leverkusen, Germany, Dekkers highlighted past successes that had come about as a result of the diversity of research at Bayer.
Imidacloprid, a nicotinoid that disrupts the central nervous system in insects, was developed as a pesticide against aphids but later adapted for use controlling tics and fleas on animals, for example. Similarly, ciprofloxacin, a fluoroquinoline antibiotic used to treat a range of infections in humans led to the development of structurally related compound enrofloxacin, which is used to treat infections in animals.
'Bayer has a unique starting point because we have comprehensive expertise in human, animal and plant health,' Dekkers said. 'We aim to systematically explore the interfaces between these areas to identify the potential for new products.'
Bayer might have even more interfaces today were it not for the 2004–2005 spinoff of its speciality chemical business, Lanxess, now worth €8.8 billion in annual sales. But its hefty R&D budget is nonetheless spread across several quite different disciplines. The pharmaceuticals unit accounts for two thirds, crop science (agrichemicals and seeds) a quarter and the materials (predominantly high end polymers) unit gets what's left – about 8%.
Dekkers took the opportunity to highlight the recent successes of anti-coagulant rivaroxaban, marketed as Xarelto, which he says has the potential to generate annual sales of $2 billion. He also mentioned the project to commercialise the production of raw materials from waste carbon dioxide, which is now at the pilot plant stage.
Board member Wolfgang Plischke added that external collaboration was also very important. Companies and institutes globally spend $275 billion annually on life sciences R&D. Bayer accounts for just 1% of that. If the company is to get the maximum value out of its spending, it needs to work with others. Plischke said one quarter of the €3 billion Bayer R&D budget goes into projects with external partners.