The 2007 L'Oreal Unesco awards honour women in materials science.
The 2007 L'Oreal Unesco awards for women in science were announced at a ceremony in Paris on 22 February. This year's selections were based on materials science, so chemistry was well represented in the line-up.
The award, now in its ninth year, was given to five women chemists and physicists whose research projects ranged from the study of nanotubes to shellfish toxins.
Five Laureates were selected by a jury of international scientists, led by G?nter Blobel who won the Nobel prize for medicine in 1999. Each received $100 000 (?51 500) in prize money.
Winners included Mildred Dresslehaus, former president of the American Association for the Advancement of Science, and New Zealand's first ever laureate, medicinal chemist Margaret Brimble, from the University of Auckland.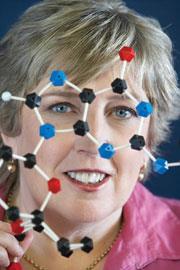 Brimble's work involves the synthesis of biologically active molecules from natural products including shellfish toxins and algal blooms. She told Chemistry Worldthat her work synthesising these 'beautiful molecules' was enormously satisfying and that she was surprised and delighted to receive the award, adding that she hoped it would stimulate added interest in science amongst young women in her home country.
The award scheme was developed to address an acknowledged gender gap and to improve the position of women in science. 'There is definitely a shortage of women in senior academic positions,' said Brimble. 'Particularly in the physical sciences, you train in the lab for ten years and are looking to set up your own lab at the time when you might be thinking of having a family and taking time out. It's a difficult balance.'
Winners include:
> Ameenah Gurib-Fakim, University of Mauritius, Reduit; organic chemistry
> Margaret Brimble (left), University of Auckland, New Zealand; organic and medicinal chemistry
> Tatiana Birshtein, Russian Academy of Science, St Petersburg; macromolecular compounds
> Ligia Gargallo, Pontifical Catholic University of Chile, Santiago; physical chemistry
> Mildred Dresselhaus, Massachusetts Institute of Technology, Cambridge, US; electrical engineering and physics
Victoria Gill