Regular blackouts and missile strikes are part of life in Bucha district
Senior research fellow Liudmyla Solianyk left Bucha district for the western part of Ukraine after her village took heavy damage in February 2022. During those attacks her family hid in a well to avoid missile strikes; leaving was also dangerous as it took her past Russian troops. She returned home last summer and is completing her doctoral dissertation at the Institute of Colloid Chemistry and Water Chemistry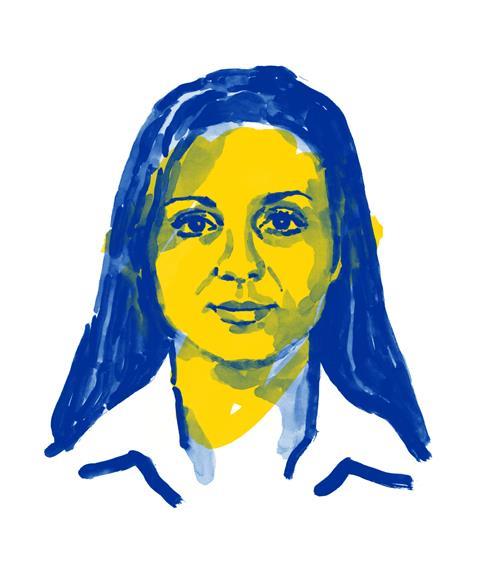 At first we were very lost and scared. Now we are stronger. After the first shock wore off I started volunteering since I couldn't work. I assembled food packages and sent them to the frontline, and I organised a fundraiser for a thermal imager. Closer to the New Year, I organised a project to support Ukrainian soldiers and made some themed Christmas baubles. I gave some to the military and to a school, and I sold some. It turned out I didn't make enough as people also ordered them from abroad. I plan to expand this project in the future.
It wasn't very comfortable when we came back to Bucha district in summer, but we got used to it. Being in our own home lifted our spirits a lot, but it got challenging in autumn. One morning we were on our way to school/kindergarten/work and heard some very loud explosions. That turned out to be the strikes that damaged windows in one of our buildings at work.
Since then, we've had regular blackouts. Currently we have both heating and electricity, but when it's off and it's windy and frosty, it is difficult. Lots of kids go to cafes or do their homework in shopping malls, and we've got support centres to charge devices and sometimes warm up.
After seeing what we saw, you become stronger – and different
As for myself, we used a power generator, and I finished my doctoral dissertation regardless of whether there was electricity or not. It's being checked right now. I was meant to have my viva in February 2022.
It's worrying when the air raid siren starts during an important procedure or work. Very scary. We once woke up because of loud explosions at 6am. A missile landed – luckily it didn't hit the house. It left a 7-metre crater.
It is really difficult to make plans right now, life is so unpredictable. Of course, after seeing what we saw and surviving, you become stronger, and different – with different views and aspirations.
My main goal is my thesis defence. Afterwards, I would like to begin new projects, get some opportunities to work with researchers from different countries, create joint grants, and get joint results. Also, I want to teach students. I have some teaching experience, but it was on hold while I focused more on research.
I'm thankful to all Ukrainian soldiers. They defend peace not only in Ukraine but in the whole of Europe. I'm also thankful for the countries that are helping us – the UK in particular, Poland, and so many other countries – not only with military aid but also financial aid. They accept our refugees and offer us jobs in such difficult times, and we are grateful.
My older daughter is in a chess club. When we went to a competition in Lviv, I was so proud to see how motivated all the kids were. There was no phone reception or internet connection, no light except from candles and torches, and the kids were so enthusiastic about playing. The generation that's growing up today will be very strong.
This article is based on an interview performed by Anastasia Klimash
Ukraine's chemists persevere through a year of war
1

2

3

4

Currently reading

Chemists in Ukraine revisited: Liudmyla Solianyk

5

6

7

8