Martin Rees, president of the Royal Society, on the first 350 years of the world's oldest scientific academy in continuous existence
Martin Rees, president of the Royal Society, on the first 350 years of the world's oldest scientific academy in continuous existence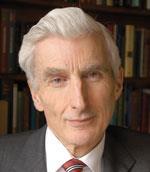 The Royal Society's 350th anniversary has offered us a pretext to learn more about its origins, and to appreciate more fully how science and technology have transformed everyone's lives.
At the Society's earliest meetings Christopher Wren, Robert Hooke, Samuel Pepys and other 'ingenious and curious gentlemen' (as they described themselves) viewed all kinds of experiments. Robert Boyle, the 'father of chemistry', did famous experiments with an air pump; others peered through newly invented telescopes and microscopes; they heard travellers' tales, and dissected weird animals. These pioneers were in Francis Bacon's phrase 'merchants of light' - seeking knowledge for its own sake.
But for Bacon, discovery had a second motive: 'the relief of man's estate'. And our founders were indeed immersed in the practical agenda of their era - improving navigation and the navy, exploring the New World, and rebuilding London after the Great Fire.
New horizons
350 years later, human horizons have hugely expanded. Our Earth no longer offers an open frontier, but seems constricted and crowded - a 'pale blue dot' in the immense cosmos.
And the Royal Society is a vastly different institution. But its essence actually hasn't changed. Scientists today have the same motivations as their forebears. They probe nature and nature's laws for their intrinsic value. And their engagement with society and with public affairs is still strong, although today's focus is of course not just on London, but on issues that are often global.
The Royal Society embraces science in the broadest sense - to include technology and engineering. Its priority has been the backing of individuals. Indeed we're proud that, in our anniversary year, we are supporting both of the Manchester physicists who won the Nobel prize this year - one as a 2010 anniversary research professor and the other as a university research fellow.
More and more issues of public policy have a scientific dimension. That's why, in this important year, the Society has expanded its Science Policy Centre to enhance its ability to offer authoritative advice. We cherish our independence - advice is offered whether asked for or not.
Our recent policy reports have dealt with topics as diverse as synthetic biology, climate geoengineering and nuclear security. In March we published a report The scientific century: securing our future prosperity , which was widely cited during the election campaign and continues to be referenced as Government policy in this area develops.
Anniversary celebrations
The Society celebrated its anniversary with a year-long series of events, exhibitions, and publications to increase both the public's involvement in and the profile of science. Our scientific meetings aimed to address the most important cutting-edge topics: ageing, biodiversity, consciousness, energy, web science, risk analysis, and so forth. A series of special publications and surveys has been published: in particular, Bill Bryson edited a very well-received book, Seeing further , which offered the perspective of 20 authors on scientific topics. We made special efforts to highlight the Society's history, as well as a range of programmes delivered with regional museums and cultural centres. A BBC series by Melvyn Bragg reached a wide audience.
The anniversary activities peaked with a 10-day summer of science at the South Bank which attracted 50,?000 people: its centrepiece was a 'convocation' in the Royal Festival Hall attended by HM the Queen and several other members of the royal family along with representatives of scientific organisations from around the world.
One of the highlights of the year was the conversion of Chicheley Hall, a grade I listed house in Buckinghamshire, into a residential centre for the advancement of science - a 'scientific Ditchley' that can supplement our existing accommodation in Carlton House Terrace. In recognition of a major donation from Norwegian-American philanthropist Fred Kavli, the centre will be known as The Kavli Royal Society International Centre. It will permanently enhance the Society's footprint, both metaphorically and literally.
350 years ago, the Royal Society helped pioneer a new mode of thought - an enlightenment, where evidence would trump traditional authority. It's a mindset that has changed the world. We're mindful of how much we owe to our predecessors - but also of how much opportunity our science base can offer. It has been a privilege to preside over the society during the last 5 years.
Martin Rees is president of the Royal Society, a position that will be taken up by Paul Nurse, president of the Rockefeller University in New York, US, on 1 January 2011.