The UK's new science minister, Ian Pearson, says that an international perspective is vital for scientific growth
The UK's new science minister, Ian Pearson, says that an international perspective is vital for scientific growth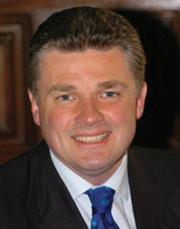 We all know that the UK has a scientific heritage to be proud of, with chemistry playing a significant part. For instance the work of Frederick Sanger on insulin or Dorothy Hodgkin on x-ray crystallography changed the lives of many people in ways that would be unthinkable a few generations ago. However, trumpeting past glories does not ensure future successes, so we need continually to invest in and nurture our science base to make sure that the Hodgkins or Sangers of tomorrow have the opportunity to flourish.
This matters to the UK because science is at the heart of technological innovation, which is critical to our economic performance. Only by continuous improvement can major industries prosper, and only by developing innovative and knowledge-based products can many new businesses succeed and grow. And it should not be forgotten that amazing science becomes truly useful to the general population once it is commercialised into a product. After all, what use is a brilliant drug discovery until it is available for doctors to prescribe or for people to buy in a pharmacy?
And we must remember that our competitors in commercialising science are often thousands of miles away. Ask a Cambridge technology firm about its competition and they are as likely to talk about businesses in the US or India as they are about UK ones. Furthermore, the top UK universities are competing for talent with the likes of Harvard or Stanford as much as with each other.
So what more can we do? Well, science and innovation continues to be a key priority for the government as demonstrated by the more than doubling of the science budget over the past 10 years. The 'Science & Innovation investment framework 2004-2014', which sets out the government's long term vision for UK science, contains a range of policy commitments including increases in research and development spending as proportion of GDP; additional resources for UK science and knowledge transfer activities; and measures to enhance the teaching of science throughout the education system.
On top of these, the Higher Education Funding Council for England has announced that it will spend ?75 million over the next three years to support the teaching of strategically important and vulnerable subjects, including chemistry and physics. Most important of all, the number of science students in the system has increased by 130,000 since 1997. And as the Royal Society of Chemistry recently noted, the number of students starting degrees in chemistry is up by 18 per cent over the last three years.
Two key factors for global success at innovation are world-class scientific research and high quality skills, and the creation of the Department for Innovation, Universities and Skills brings together support for these. However we must remember the impact science has right across the economy, and we need to develop more creative approaches to strengthening people's appreciation of science in all fields. Lord Sainsbury's current review of science and innovation policies right across government will make an important contribution to this process.
It is also critical that we continually learn from other countries. An internationally networked science and business base is vital to success in the global economy.
So the UK's formal and informal partnerships with the many centres of excellence in other countries will also play a key part in the innovation process for all our benefit.
Ian Pearson MP is the UK's Minister of State for Science and Innovation