How prisoners during the Second World War were able to study for chemistry degrees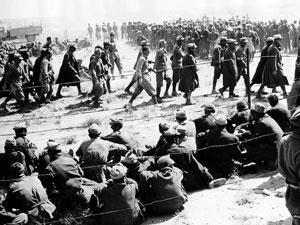 In 1943 the pass list for external BSc (London) showed several candidates located as prisoners-of-war at various German locations ('Stalag…', 'Oflag…'). Evidently, books were supplied by the Swiss Red Cross, who, as an independent neutral operation, may also have supervised the examinations. But to perform the required laboratory work in chemistry, POWs must have been escorted by guards to colleges or universities in Germany. How were such degrees obtained by British prisoners, and did German POWs have similar study facilities in the UK?
Letter from J R Hinchley, Chemistry in Britain (May 1985)
Ed. J W Murfin replied that he had himself passed an external BSc examination in chemistry in a prisoner-of-war camp. Books were available in the camp library or could be requested via the Red Cross. Written papers were sent by London University with the cooperation of the Red Cross and the Germans. 'I sat one paper per day for six days in September 1943 in Stalag Luft VI. Since RAF prisoners were not allowed to possess fountain pens, I wrote the papers in pencil!' Murfin was later told that he had passed and would be allowed to complete the degree by passing the practical examinations after the war, which he did at Nottingham University College in 1946.