Queen's University Belfast celebrated its 150th anniversary by planting a laburnum tree outside the former laboratory of chemist Thomas Andrews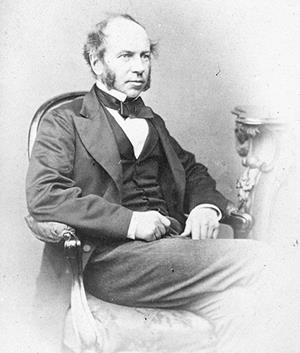 As part of this year's 150th anniversary celebrations at Queen's University, Belfast, the RSC's president, Howard Purnell, visited the university to bring the greetings of the Society. He planted a laburnum tree in memory of Professor Thomas Andrews, the first professor of chemistry and vice-president of Queen's College. The tree replaces one that grew outside Andrews' laboratory – tradition says that he worked in its shade – which died of old age. Professors Thorburn Burns and Grimshaw gave a lecture on the first 100 years of Queen's chemistry as part of the celebrations.
Chemistry in Britain (October 1995)

Ed. As part of its Chemical Landmark scheme, the Royal Society of Chemistry unveiled a blue plaque in 2013 in honour of Andrews on the 200th anniversary of his birth. Professor James McElnay, acting vice-chancellor of Queen's University Belfast, unveiled the plaque and explained that Andrews, who originally trained as a medic, became the university's first chemistry professor and a founding father of science in Northern Ireland. He discovered the 'critical temperature' for the liquefaction of carbon dioxide, the basis of cryogenics and low temperature chemistry and physics.