Ithiel Mogridge's dream of producing a non-toxic, environmentally friendly paint remover has not only come true but has also won her the accolade of British Female Inventor of the Year.
Initially trained as a food scientist, Mogridge found her niche in surfactant chemistry. While working for a large company that made traditional paint stripper, she came up with the idea of a non-toxic paint remover. When her bosses showed no interest in her compound, she decided to venture out on her own, setting up her own company,
Action Products.
Mogridge's paint remover easily shifts water- and oil-based paints without using acid or methylene chloride. The product is ethanol-based and biodegradable.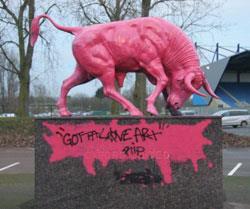 For the past few years she has been selling her products to local authorities. She recently negotiated a licensing deal with Coo-var, a paint manufacturer, to distribute her products nationwide from March 2002.
Chemistry in Britain (March 2002)
Ed. The solvent got a boost in 2006 when commended by consumer magazine Which? Mogridge now sells about 10,000 tins of paint stripper a year and the product is stocked in DIY chain Wickes.
In February 2011 Oxford United Football Club's statue of Olly the Ox, which had been painted a striking pink by vandals was cleaned using Mogridge's Safe Paint & Varnish Remover.
For more information see website
.