15 years ago, Chemistry in Britain
Pfizer has opened a new Pharmaceutical Sciences Building (PSB) for the design, development and manufacture of new drug dosage forms for clinical trials. It will accommodate 150 staff.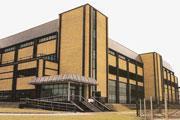 The PSB is a major ?35m addition to the Sandwich site in Kent, which is the company's main European R&D site. The drug dosage forms from the PSB are scheduled to reach more than 35 countries for clinical testing as output increases during 1997.
Pfizer has 13 new pharmaceutical candidates in late stages of development worldwide, of which almost half originated from Sandwich. The R&D campus is now the largest of any foreign national pharmaceutical company in the UK.
Ed. Despite this expansion of Pfizer's Sandwich site in 1996 and the pharmaceutical optimism expressed that year, the announcement of Pfizer's decision on 1 February this year to shut down their R&D operation at Sandwich with the loss of about 2000 jobs was one of the main business stories of 2011 in Chemistry World.
In June, Pfizer updated its plan so that it will now keep some work at the site - enough for 350 staff - and on 17 August the UK government announced the creation of a new Enterprise Zone at Sandwich, encouraging new start-up businesses and other investors with simplified planning rules and millions of pounds in tax breaks to promote growth. On 31 August a group of seven former Pfizer employees set up a spinout company, The Research Network, on the Sandwich site.