20 years ago in Chemistry in Britain
20 years ago in Chemistry in Britain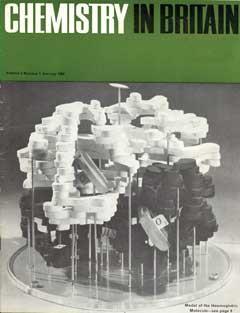 In the 1950s there were three monthly chemical society publications which included chemical news- the Proceedings of the Chemical Society (CS), the Journal of the Royal Institute of Chemistry (RIC) and Chemistry in Industry .
In 1957 an anonymous letter appeared in all three publications deploring the 'burgeoning of publication' and pleading for 'one good chemical news journal to read once a week.'
Although there was not much reaction to this eloquent plea at the time, by early 1964 John Ruck Keene of the CS and Eric Parker of the RIC had produced a plan for a joint monthly news journal.
Potential titles toyed with included Chemistry Today and The Chemical World, but eventually we favoured, for better or for worse, the suggestion for which I was responsible - Chemistry in Britain. The first issue of the joint magazine appeared in January 1965. The first article in the new journal was a transcript of the RIC Thirteenth Dalton Lecture delivered in Manchester Town Hall by Lord Todd. It was an eleoquent plea for closer co-operation between scientists, industrialists and Government. This was followed by a article on haemoglobin by Max Perutz.
I have no doubt that its foundation was a crucial step in the progress towards unification of the CS and the RIC.