20 years ago in Chemistry in Britain
20 years ago in Chemistry in Britain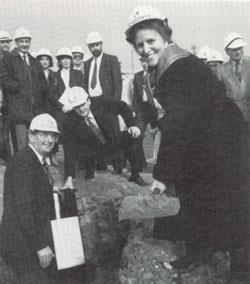 Anne Wright, rector of Sunderland Polytechnic recently buried a time capsule containing pharmaceutical products from the polytechnic in the foundations of a new ?3.7 million Fleming Building which will house the polytechnic's pharmaceutical chemistry and microbiology laboratories. The building is due for completion in 1993.
Chemistry in Britain (May 1991)
Ed. Sunderland Polytechnic received university status in 1992; currently it has some 13 200 undergraduates and 1350 postgraduate students.
The University of Sunderland with its close links with the local pharmaceutical and chemical industry, has a long tradition of pharmaceutical chemistry research and pharmacy education, including a highly regarded Pharmacy MPharm 4-year degree course.
In February 2011, Sunderland University opened a new ?8.5 million science complex, officially launched by Lord Robert Winston.
Research will be carried out at the new complex on new drug design and development, particularly in the areas of bacterial resistance, psoriasis, transplantation, cystinosis and cystic fibrosis. It will also provide professional development programmes for NHS staff, including clinical practice, stroke and heart failure management, infection control, mental health and Parkinson's disease.
This new science complex includes a purpose-built mock pharmacy for frontline pharmacy training.