20 years ago in Chemistry in Britain
20 years ago in Chemistry in Britain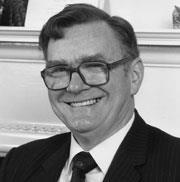 Professor Arthur Bell has recently retired as director of the Royal Botanic Gardens at Kew. He witnessed the destruction to the gardens during the night of 15 October 1987 when a hurricane destroyed over 500 trees at Kew itself and over 15 000 at Wakehurst Place, its country annex.
Bell, a chemist, was interested in making use of the opportunity to look at the composition of bark and hardwood, and the inter-relationship between tree and fungal species and between tree species and nematodes which creep into them. The tests were carried out in Kew's own research laboratories, including the Jodrell Laboratory which has sections specialising in phytochemistry, biochemistry, cytology and anatomy.
It was surprising that Kew should have chosen a plant chemist for its highest post, and not a taxonomist as most of its directors have been in the past. Bell said that he was able to understand the chemistry of plants in a way that somebody without a good chemical background could not have done.
One of the final official occasions Bell attended as director was when the Speaker of the House of Commons planted a small specimen of the Australian tree, Castanospermum australe, to celebrate the Australian bicentenary. This tree, from whose timber the Speaker's chair, a gift from the people of Australia, was made, is the very same species in whose seeds Bell first discovered castanospermine ( Phytochemistry, 1918, 20 , 811). This polyhydroxyalkaloid with its antiviral properties is attracting enormous interest for its potential in anti-AIDS research.
From a Talking Point article in Chemistry in Britain (September 1988)