Efforts will be made this year to salvage Henry VIII's favourite warship, the Mary Rose, sunk in the Solent 437 years ago. Some 10,000 objects have already been recovered by marine archaeologists, including leather jerkins, rigging blocks, arrows, musical instruments, tableware, medical equipment, as well as cannon. The method being used by the Mary Rose Trust for conservation of these delicate objects involves use of polyethylene glycols (PEGs). These displace the water in the object's cell structure, strengthening it and allowing further conservation to proceed. Research is still going on to determine the best way of preserving the ship's 300 tonne hull, but a large bath containing 3 tonnes of PEG has been prepared for larger items of ship's timber.
Chemistry in Britain
(February 1982)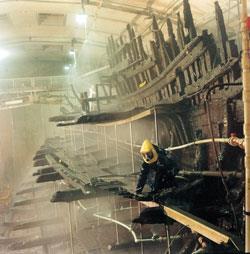 Ed. The Mary Rose was eventually raised to the surface later that year on 11 October 1982.
In the autumn of 2012, after 30 years of conservation, the Mary Rose Trust will open the new Mary Rose Museum at Portsmouth Historic Dockyard, bringing the hull and many of the 19,000 artefacts that were raised with her together once again; the hull will, however, not be fully revealed until 2016.
For more information on the conservation of the Mary Rose and the new Mary Rose Museum, see website.