Being a scientist means more than just doing scientific experiments
For any research group, someone always has to be its first PhD student. It may sound frightening, but I consider myself extremely lucky to be that person. As part of a three-person team along my advisor, Mónica Pérez-Temprano, and a postdoc, Sara, I had to be part of everything. And while the pressure was high (as the sole student I was constantly under the spotlight), I was able to learn countless new things. Everyone expects you to read a million papers, learn how to develop a scientific project and publish your results – but no one tells you about the other roles you must fill too.
We started as builders, literally creating the laboratory from scratch. Before we arrived, it looked like a classic western, with tumbleweeds rolling all around. I spent my first weeks surrounded by wrenches and screwdrivers rather than flasks and beakers. Trying to save as much money as possible, we decided to buy some equipment in pieces and then assemble everything ourselves. This was extremely helpful later whenever we had to fix different malfunctions as they started to appear.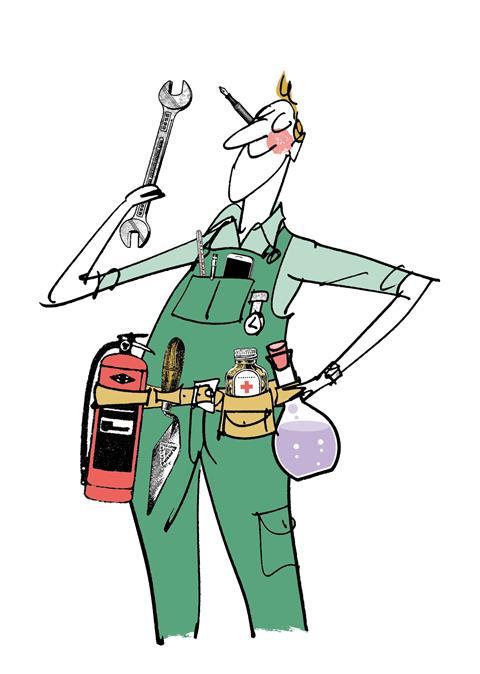 Even so, we still needed help. The group is focused on understanding organometallic mechanisms, and I found myself trying to detect reaction intermediates or, as we called it, catching unicorns. To do so, we refurbished an old glovebox. A friendly technician taught us the tips and tricks of maintenance, including how to use bike patches to fix problems! It was a stark contrast to my previous life in a total synthesis group, doing countless column chromatography purifications – showing that even the 'chemist' part of a job can be radically different from one moment to the next. I even took part in all sort of security courses, like first aid, CPR and firefighting techniques. Putting fires out for a day was quite cool, but I hope I never need to use that knowledge in real life.
Eventually, things started to work out and more people joined our group. Soon, I even became a mentor to some undergraduates – a new role that was equally rewarding and exhausting. This experience inspired me to start doing some outreach activities. Witnessing the curiosity of children blossom in front of a mundane chemical experiment is one of the most gratifying activities I have ever experienced.
After years of sweat and tears, we were able to publish our first results. That opened the gates for one of the best perks of being in academia: giving presentations at different conferences all around Europe. Thanks to that, I had the chance to meet a lot of people. I also learned the importance of social media. When the Royal Society of Chemistry organised a worldwide congress on Twitter, I tweeted a GIF of my poster and won first prize in my area. I would have never thought during my undergrad that I would be adding a Twitter award to my CV.
My latest adventure featured rainstorms, litres of tea and several hours in front of a computer in Scotland. Under the invaluable tutelage of Stuart Macgregor at Heriot-Watt University, I explored the distant world of computational chemistry. Although it was overwhelming at first, leaving the flasks behind and starting to see the molecular models break apart and form new bonds gave me a new insight into my own work – and yet another string to my bow.
To date, I've been a chemist, a builder, a mechanic, an engineer, a nurse, a firefighter, a science communicator, social media influencer and computer programmer. Now I'm a writer. But it's part of what's great about being a scientist – there's plenty of opportunities when you stick your neck out of the fume hood every now and then.