Organic synthesis (3rd edn)
Organic synthesis (3rd edn)
Michael Smith
Academic Press
2011 | 1534pp | ?78.99 (HB)
ISBN 9781890661403
Reviewed by Paul Hogg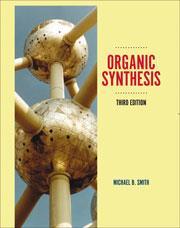 This is without doubt a must-have organic chemistry textbook. It is clear, concise and very readable. Trying to write a textbook is extremely difficult and demanding, but trying to write one that is the superlative book in a student's, or practicing chemist's, library is an almost impossible task. Michael Smith has achieved that.
From the very beginning you are immersed in the fundamentals of retrosynthesis, stereochemistry, oxidations, reductions and protecting group strategies. This is made complete by the thorough blend of theory and referenced examples from the literature. With a comprehensive toolkit of named organic reaction mechanisms to piece it all together, this is by far the all-in-one book for organic chemists.
Organic synthesis outshines the most popular organic chemistry books in my own collection and now takes its seat as my companion both in the lab and on my desk. I can wholeheartedly recommend this book to chemists at all stages of their career.